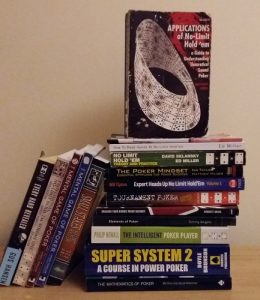 Poker is not an easy game, and those who want to stay ahead of the curve need every bit of help they can get.
Books are one of the best sources of organised information you can find on the subject of poker, and one of the best ways to improve your poker game.
Unfortunately, some poker books are not as applicable in today's games; whereas some are gold mines which will greatly improve your game, despite their age.
Below, we list books which are relevant and useful on the felt today, as a lot of books haven't aged very well.
So here is my list of the best poker books in 2020 that you can get your hands on in (organised by Amazon rating).
Use the filters below to help you find the book that best fits your needs:
---
Rating: 9.2/10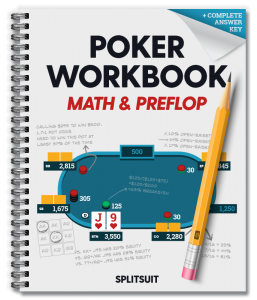 This is the first poker book to be released in 2020, and it's off to an amazing start with great reviews so far.
If you are serious about playing better poker, you need to fully grasp the underlying math but you don't need an IQ of 195 to do these calculations.
You just need to learn the key formulas, practice putting them to use, and train your brain to precisely and automatically estimate the math during sessions. And that's exactly what this workbook does.
You'll learn and practice basic math concepts like pot odds, implied odds, and combos and eventually get into more complex topics like EV (expected value), 3betting, and preflop all-ins.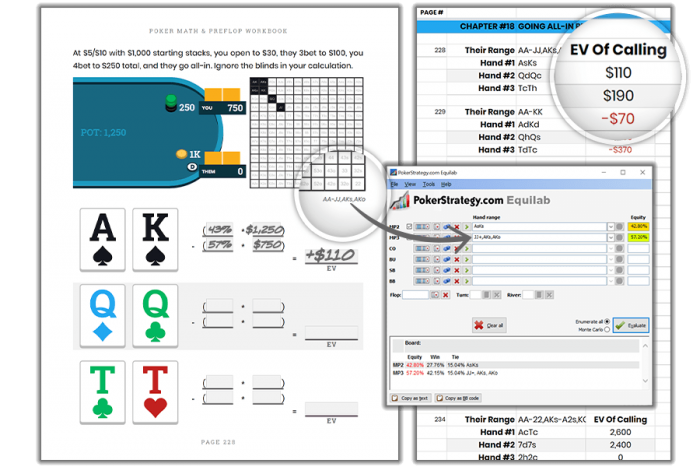 Each chapter includes information about the concept, gives you all necessary formulas, and then lays out example after example for you to put your skills to use. The paperback is also full-color, which is rare for poker books given how expensive full-color printing is compared to traditional black and white. And the workbook is large size (8"x10") so you don't need to squint to see the ranges.
If you grab the ebook version instead, you'll find that you can write directly into the workbook and save your answers for simple review. The Poker Math & Preflop Workbook is over 200 pages, has 1,500+ questions, and includes a full answer key so you can ensure you got everything correct.
Author James "SplitSuit" Sweeney suggests doing a few pages per day to build a +EV habit that results in excellent retention – and I think that's 100% worth your time to do! Here is a positive review from Amazon from Matt Beckett:
Math underscores poker's hand ranges, EV, frequencies, and bet-sizing among other things. But nobody wants to spend time doing it in detail at the table. This book is designed to help players visualize ranges, see +EV spots and most importantly – to spot patterns in common situations at the table. By doing this work off-table, you'll learn to estimate this stuff quickly in-game. Where the book gives you multiple choices, it also explains clearly the pros and cons of each. The book pairs well with standard poker analysis software too. Finally, the answer sheet is excellent; clear, concise, and ordered easily by page number. Recommended!
There are no negative reviews thus far.
Pick Up This Book On Amazon
---
Get HowToPlayPokerInfo's Poker Book For Free?
Want to get our poker guide for free? This simple guide to poker will take you through the basics of the game and provide you with tips specifically designed for the Zynga play money games and low stakes home games! It will also be useful for beginners who are starting with micro stakes online poker.
Use the unlock button below to get instant access:
Your Best Poker Books?
So there we are, the best poker books 2020 has given you a list of some of the most influential books to date.
Read up and let us know what you think!
Are there any poker books I have left out? Or do you disagree?
Let us know below.
If you like this best poker books post, you might like our post on the best poker training sites.
Good luck at the tables!
Note: HowToPlayPokerInfo may earn an affiliate commission through some of the recommendations in this post (at no extra cost to you).
Frequently asked questions
Last Updated: 14th May 2020