Before we get into the nuts and bolts of Texas Holdem strategy, I thought I would share a quote that is quite appropriate for most readers:
Get the PDF version of the complete Poker 101 guide for offline use (30+ pages of poker goodness). Use one of the buttons below to unlock:
Preflop Texas Holdem Strategy
Your preflop poker strategy forms the foundation of your game. Your first decisions will be made preflop during a hand, so it is important to get these decisions right. Thankfully this is one of the easier areas of the game to understand.
So to help you understand let's take a quick example (click the picture to see the full replay):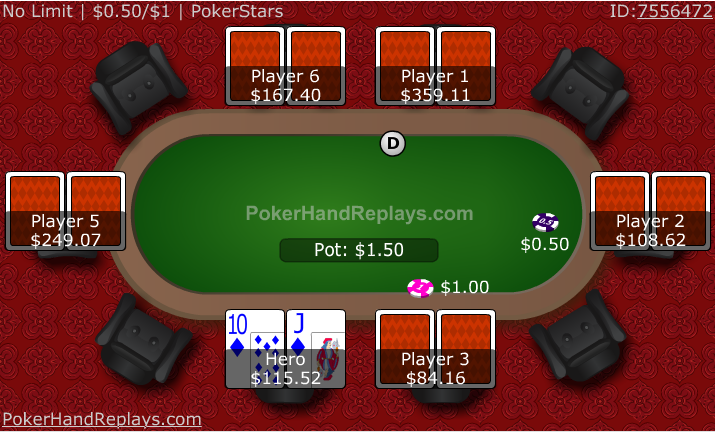 We have JTs (J = Jack, T = Ten and the 's' after JT means both cards are of the same suit. An 'o' after the JT would refer to off-suit) in the first position under the gun (UTG) on a six-handed table with $1/$0.5 BB and SB. We have to decide what to do: we can raise, call (otherwise known as a limp) or fold. There are a huge number of factors which we need to take into account, and unfortunately, I won't be able to cover them all. But I will try to cover the most fundamental factors in the coming paragraphs.
Firstly, it is very common to see new players play too many hands. They believe that they can outplay their opponents post-flop and turn a profit even with the weakest hands. This belief isn't the case and often is the main reasons a new player loses money when starting out.
Only Play A Small Percentage Of The Hands You are Dealt
Thus the first preflop poker strategy tip is to play only a small percentage of the hands you are dealt – the type of hands to play will be discussed further on in the text. Players who play a small selection of the hand they are dealt are referred to as tight. Conversely, players who play lots of hands are known as loose.
The vast majority of winning poker players are relatively tight, and for the most part, losing players are loose. Therefore, the first important poker strategy tip:
Preflop Poker Strategy Tip 1: Only play a small percentage of the hands you are dealt.
Luckily, JTs is in the top 12% of hands and therefore is a hand we would want to continue with, in this case. We can determine 'how strong' a hand is using a program called Equilab. So our options are now to raise or to call because our hand is too strong to fold.
This result leads onto a second reason new players are unsuccessful – frequent limping
Limping is defined as calling the big blind instead of raising or folding. For example, you are first to act after you have been dealt two aces (AA) or like our example with JTs and instead of raising, you just call – this is called a limp.
Limping: Flawed Reasoning
Often, new players limp to see a cheap flop with speculative hands or to trap with strong hands such as AA or KK. Good winning players very rarely limp and there are many reasons why:
You give the other players a chance to beat you with their weak holdings. For example, if you limp with AA and your opponent in the big blind checks behind he will have a chance to outdraw you to three of a kind or two-pair. Do not give people a free chance to improve and beat your strong hands.
Raising with good hands builds the pot. A big hand deserves a big pot! Typically the only way you will win an opponent's whole stack (all of their chips) is by raising preflop; winning their entire stack is what you want when you have AA or KK, right?
It allows you to better understand what your opponent may have. If we limp in and our opponent is in the big blind, he could have every possible hand; however, when we raise our opponent will fold some of the worse hands and the type of hands he can have become more defined. Experienced players use this to their advantage.
Playing speculative hands (hands which could potentially, but infrequently win a big pot) such as 64s (s =  suited, o = offsuit) and T2s just is not profitable in the majority of cases, whether you raise or limp, and no matter how good you are at poker.
Preflop poker strategy Tip 2: Never limp preflop
Example: JTs Under the gun
Since limping (i.e. just calling) is not an option our only option is to raise. That poses the question of how much? In this case, we will raise to 3x the BB, so $3 and one player calls our bet as shown. We will cover the reason we use 3x later in the article.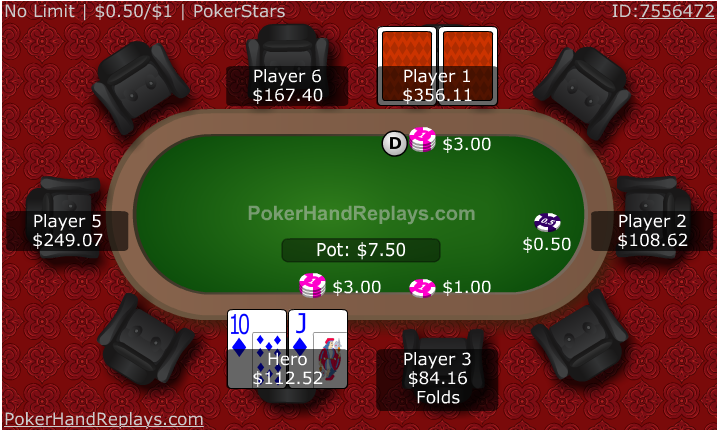 Three times the BB is a standard raise size which we will go into later in this article under the heading "Texas Holdem betting strategy". But first, a little more on aggression to drive home the point:
You should only raise or fold your hands when first entering the pot. However, calling with some hands after someone else has raised is fine. There are some situations where open limping is a good idea but they are so few and far between that never limping is a good starting preflop poker strategy – especially for a beginner.
This leads to another generalization of how people play poker:
Aggressive vs. Passive
In poker, an aggressive opponent is a player who bets and raises frequently. A passive opponent is a player who calls and checks often and very rarely bets or raises.
Aggression is one of the keys to success in poker for one simple reason: When you bet or raise, you have two ways to win the pot – either your opponent folds or you get to showdown with the best hand.
Unfortunately, when a player is passive there is only one way to win the pot – by having the best hand.  This difference is hugely important and is the reason all big winners are aggressive poker players; while most losing poker players are quite passive.
Preflop poker strategy Tip 3: Take the initiative and be aggressive. Bet and raise your strong hands frequently and don't rely on others to do the betting for you!
The four playing styles
In total there are four player styles:
Tight-Aggressive (TAg) – This player type which makes up the majority of the winning player pool. They wait for strong hands and bet and raise them hard, punishing other players who play weaker styles.
Loose-Aggressive (LAg) – successful loose aggressive players are few and far between. They play lots of hands and play them very aggressively. It is a tough style to play but also a tough style to combat!
Tight-Passive – this player type does not play very many hands and when they do the play them by calling and checking frequently. These players lose their money slowly but surely.
Loose-Passive – these player types just don't like to fold. Loose passive players play lots of hands – sometimes over 50% of the hands they are dealt. They are the complete opposite of tight-aggressive. This player type is the biggest loser and where the big winners make their money.
So what hands should you play? That is a difficult question to answer since it depends on many factors –  what position you are in, how many opponents are on the table, how likely your opponents are to raise,  the equity of your hand, how many BB you have and how many hands you have been raising recently.
Poker Betting Strategy 2: As a general rule always raise at least three times the previous bet or raise. When betting post-flop bet between 1/2 to a full pot-sized bet.