Advanced Poker Training is an awesome tool that isn't like many of the other poker training sites out there – it's a live poker training experience where you play hands and get real time feedback.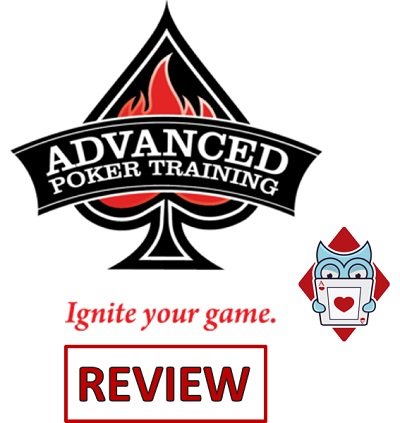 Instead of watching videos and learning from a PowerPoint slide show, you are sat down at a table with AI opponents. It's just like sitting down on any other online poker site such PokerStars or PartyPoker except you get to decide who you play against and what type of cards you are dealt.
Why should you try this over standard poker training you might ask? Well, that's what we will cover in this review of Advanced Poker Training.
Features of Advanced Poker Training
We mentioned that with APT you get to decide the table setup such as player types, the hand types you get, and the position you will be seated. When you start up a game you will be faced with this screen which allows you to adjust the game however you want:
With a premium account, you get to choose from:
Game type: Fullring, 6max, headsup (cash or SNG), single table tournaments or multi-table tournaments.
Difficulty choices of: Easy to very hard
Blind levels $1/$2 to $500/$1000
Player mixes of passive to aggressive or unknown
Rotated positions or fixed
Various hand types
Note: You only play one table at one time and cannot multi-table as you would with an ordinary poker room.
Then you can move onto the table where you can start learning:
You can play straight from your PC, Mac or Tablet since there are now downloads which makes setup and ease of access comparable to any other training and easier than an online poker site.
You can fast fold much like zoom or rush poker which means that you can play upwards of 500 hands per hour.  Advanced poker training also provides feedback on your game with weekly reports which tell you the weakest parts of your game and areas you need to focus.
For example, you may be playing too passively after the flop. This is the type of recommendation you would get from Advanced Poker Training:

The Unique Brain Button allows you to get advice from your virtual adviser if you have a difficult decision and are not sure which line is best –  this is especially good for newer players who need extra guidance. Here is an example of the Unique Brain Button: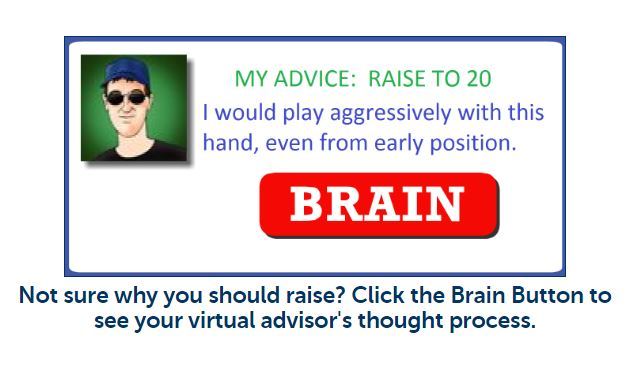 Then you can see how he would play similar hand types: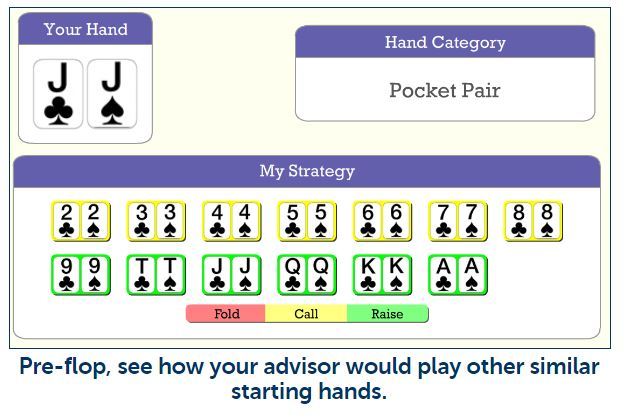 And don't think the bots or advisers on the table are terrible, the hardest settings are quite difficult coming from someone with a lot of online experience.
One thing that I do to get in the most hands is to set the hands to deal option to Playable Hands. That way, I don't have to fold very much and can really get in there and play.
APT's software allows for quicker play and the ability to set up very specific situations where you are weakest. For example, if you have trouble playing out of the blinds with small pocket pairs, you can set up that scenario and play 1,000 hands of it. By the end of the session, you will be MUCH better at this skill!

The other feature of this training style is that it allows you to work specifically on the weakest part of your game. For example, if you have trouble exploiting weak passive players, set the game to include weak passive players and learn how to beat them quickly.
You can adjust the players on the table to work on that too.
Recent updates
Advanced Poker Training (APT) is constantly updating their software and features to help players improve their game.
One of their latest developments is the introduction of "GTO-style" bots, which have been in development for years and launched late in 2022.
These GTO bots will be included with a paid APT membership, providing players with valuable insights and strategies. The GTO bot advisor is particularly powerful, offering hand value calculations, outs, stack-to-pot ratios, pot odds, and recommendations for each hand.
With a range advantage on the flop, the bots provide a range of recommendations for raises, calls, and folds, allowing players to make informed decisions. Overall, APT's updates, including the GTO-style bots, offer players a valuable tool to improve their skills and take their game to the next level.
You can try out this training signing up here –  however, the majority of the choices are locked unless you upgrade to a premium account.
Advanced Poker Training Cost
The cost of advanced poker training typically varies from $39.97 per month to $24.97 per month if paid yearly ($299 total) which is a lower price point than the majority of other poker training sites. You also have the option of getting 4 years for $599.
However, using a discount code of "HOWTOPLAY" will get you 25% off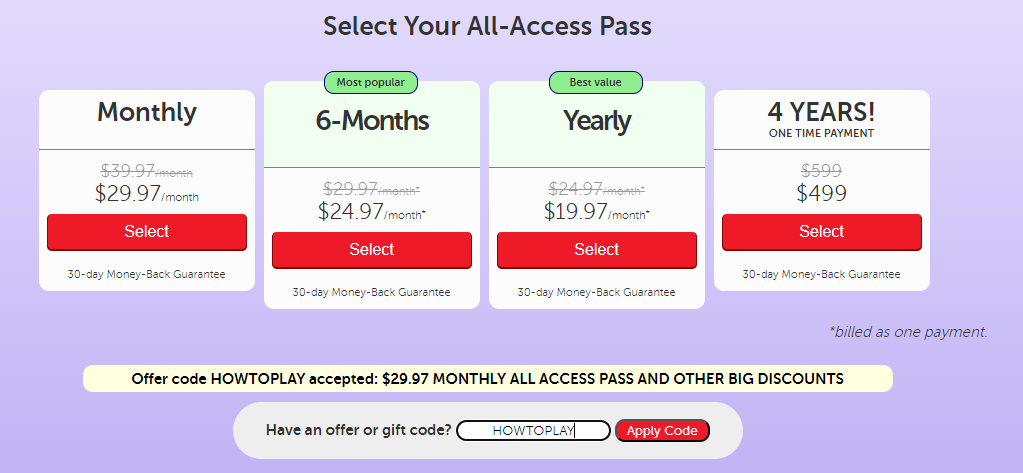 We would recommend that you first try out the free version of the training, then take a dive into the premium version with the monthly payment. Once you are happy with the site and it suits your training needs go for a longer payment plan to take advantage of the further discounts.
Check out more details on Advanced Poker Training in their video below:
Click here to sign up for Advanced Poker Training Free Account.
APT testimonials
Here is what others have been saying about advanced poker training:
Started using your training site 1 month ago … today for the first time ever, I made a final table and got paid $265.00 3rd place. I started playing poker 5 years ago…. Recommend this site to all!!! Bernard M., Los Angeles, CA
I do like the program and over the past couple days play, moving up some in difficulty level I'm getting a feel for how to better deal with opponent aggression as well as seeing that I need to reign in my own aggression when there are a lot of hands that can beat me or have good drawing odds. I already see how weak I am when it comes to making correct decisions based on odds. Now I just need to invest the time to work out all the odds every time a bot puts me to a decision until it becomes almost instinct. This wouldn't even be possible at a live or online game. And the sheer volume of practice APT makes possible in weeks would take years otherwise. Sean W., APT Member
While I am new to the site, I have already noticed an extremely positive effect on my approach to my game. I am particularly impressed with the RealPokerIQ stat and the Overall RealPokerSkill stat. Paying careful attention to the statistics opens up a whole new way to approach improving one's game. Roger, APT Member
Then there's what some of the pros have to say:
Advanced Poker Training will take your game to the next level and help you become the player you were meant to be. Use APT and you'll see improvement in no time at all. ALEX FITZGERALD, COACH AND AUTHOR
Advanced Poker Training provides the quickest path from average to world-class player! MIKE CARO, POKER LEGEND
One of the remarkable success stories of Advanced Poker Training (APT) is Marcia Kuntz, who started playing poker in 2007 and leveraged APT's resources to elevate her skills. She utilized the platform's MTT simulator to prepare for tournaments, including the WSOP Main Event. Her dedication and strategic use of APT's features helped her secure a spot in the prestigious WSOP Main Event, where she demonstrated consistent play and smart decision-making. Marcia's journey showcases the potential for growth and achievement when using APT to hone one's poker skills.
Advanced Poker Training Review Conclusion
This training is awesome for two types of players:
New players who want some training wheels while they learn to play the game (past the basic rules).
Intermediate to advanced players who want to target specific weaknesses in their game.
This training is definitely not for players who think they can just sit down against the AI bots and improve without any focused effort. Playing against the AI bots like you would a normal table is NOT going to improve your game – you need a specific target for improving your game.
So Advanced Poker Training is a very different way to learn the game of poker. It's an awesome tool that can better your game if you know how to use it.
Use the settings wisely and set up situations where you are weakest – and focus intently on improving this area of your game. Use the reports given and follow the practice routines given.
But most importantly, do not play like you would on an ordinary online table.
So that's it for our Advanced Poker Training Review – if you would like to find out about other poker training sites, make sure you check out our full review here.
Last Updated: 25 March 2020
Free Trial/Money Back Guarantee: Cancellation within 30 days and free version to test out.




Content Organisation: The live training software is very easy to use.




Content Depth & Comprehensiveness: Most of the strategy is limited to beginner level but advanced players can take advantage of playing very specific situations over and over.





Video & Audio Quality: Website needs somewhat of a revamp as it looks dated. 






Value for money: Good value for money, especially with a yearly or lifetime membership.