Are you serious about improving your poker game or are you looking to move up to some of the largest tournaments online? If so, then you should consider taking the Tournament Master Class – at Raise Your Edge.
The Tournament Master Course is taught by online poker superstar "bencb789." He's won millions in online poker tournaments, including the 2016 PokerStars WCOOP $102,000 Super High Roller where he defeated Fedor "CrownUpGuy" Holz for $1.17 million.
You need two things to be successful in this course. First, you need to know fundamental poker tournament strategy. This isn't a poker course for a new poker player in the slightest.
Next, you will need to have the desire and dedication to become a great poker player.
If you bring those things, bencb789 will teach you all that you need to know to beat poker tournaments to a very high level.
Bencb789 claims that he will keep no secrets and continuously update his course as the game and its players evolve. Let's take a quick look at what to expect from the Tournament Master Class – Expert Class in our Raise Your Edge Review.
What Does The Tournament Masterclass Provide?
The Tournament Master Class will provide with the tools you need to beat poker tournaments. Before the start of the course, bencb789 gives you an overview of what to expect and the mindset that is necessary for the Tournament Masterclass.
This video is available for free on the Tournament Masterclass homepage. I recommend that you watch this video before purchasing the class. This course is very involved, and if you don't approach it with the proper mindset, you will not achieve the results you expect from such a class.
After viewing the introduction and signing up for the course, you'll be presented with five module groups with each having their own subgroup of videos. Below is a general overview of what you'll find in these modules.
Preflop Tournament play
In this first section, you'll learn all about play playing preflop, starting with an extensive discussion about hand ranges. bencb789 looks at over 200+ preflop ranges from just about every position imaginable.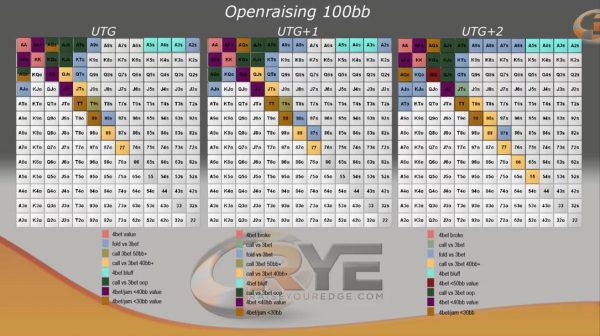 Next, he moves into talking about the theory behind developing comprehensive open raising strategies followed by putting those strategies into practice. Afterwards, you'll learn strategies behind flat calling and 3betting preflop. Then you'll learn about passive defending your blinds.
The final two sections will cover more advanced preflop concepts such as 3betting, 4betting and squeezing with 40bb+.
Postflop Play
The next section of this course focuses on post-flop play starting with an extensive two-part series on playing in position. Topics include:
Typical Mistakes Made in Postflop Play
Choosing to Cbet or Check back
Playing Against Check Raises
Turn Play & Betsizing
Delayed Cbets
River Play
Blocker Plays
Then, he covers playing out of position as both the preflop aggressor and as a cold-caller. Afterwards, you will get into even more advanced concepts such as playing in 3bet pots and playing as a cold-caller in position.
Shortstack Play
This section has a wealth of information regarding short stack play. It is an excellent module for those that have trouble playing the short stack as bencb789 covers all of the following topics:
Typical Mistakes in Shortstack Play
What to Consider When Shoving
Minraising vs. Shoving
Calling All-Ins
Learning Push & Call Ranges
Restealing
And More
Also, you will learn how to apply ICM theory to your decision on whether to play your short stack.
Heads-Up Play
The Heads-up module consists of three sections that will focus on heads-up tournament play. Firstly, bencb789 focuses on preflop play, focusing a lot of time on developing the right gameplan, followed by the best strategies for playing in position and strategy for playing out of position.
The next section is more of a review of concepts from the first video that focuses on hand reviews from previously played tournaments. In the last video, bencb789 plays a series of heads-up tournaments and applies ideas presented in previous videos to live play.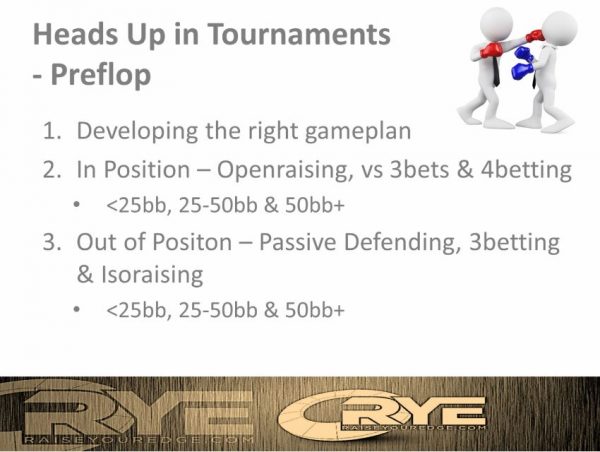 Hand Ranges
This course provides you with ranges for almost every imaginable preflop situation. No more guessing what hands you should be opening UTG or calling vs a 3bet.
You can use these ranges as a template to work from while analysing your player after a session or even in game if you are only running a couple of tables (note: range viewers are not allowed by most online poker sites, so be warned).
Truth be told, this is one of the most valuable if not most valuable part of the course.
Bonus Content
In the bonus content section, bencb789 presents three videos recapping his final table run in the 2016 WCOOP $100k Super High Roller. In this series of three videos, bencb789 breaks down his thought processes and helps you "bring it all together" by seeing how he applied his strategies to win the event and $1.17 million.
This section was added after the original course was completed and is an excellent example of the types of updates you can expect in the future for this course.
Be Ready to Put in Extensive Work With Raise Your Edge
In the introductory video, bencb789 talked about how that you will need to commit yourself and put in the work to get the most out of this course. I completely concur, and this course may be more study intensive than any I've encountered in the past.
I knew this course was going to be involved when the first module was an hour of non-stop discussions about ranges. It felt like a complete data dump, and there is no way a person will be able to assimilate the information in just a single viewing short of having an endemic memory.
That's par for the course with this material. This course requires more than just casual viewing. It requires you to put in the time, study and practice to master the material. Don't be surprised if you will need to spend several hours assimilating each video.
What I Liked About This Course
Some people can look at a poker situation and come up with various scenarios without a lot of effort. Others need to have a more methodical approach to each situation. Unfortunately, a lot of poker training software shies away from the methodical approach and thus alienates players who thrive under this approach.
I am one of those players, and I was impressed by the methodical approach of bencb789 in this course. I'm the type of person who likes to have some for every situation. I want to plan for contingencies, and this course gives you the knowledge to do just that by giving you the tools to plan out every phase of tournament play and from just about every angle imaginable.
Next, I feel this material is beyond comprehensive. The depth that bencb789 goes with each topic is better than I've seen from any site I've checked out to this point. No matter your experience level, you will benefit from this course. If you're new to poker, your learning curve will skyrocket compared to other players with your experience. Experienced players will find tools needed to move up to the next level, win more often and perhaps achieve poker goals they set when they first started playing.
What I Didn't Like About This Course
I am more of a hands-on and visual learner. Courses that focus more on lecture than giving examples are hard for me to sit through. Overall, I felt that this course focused a bit more on discourse than needed. Sometimes lecturing is unavoidable, but with the volume of content presented, some more visualization is required to keep things interesting.
Another area where I feel this course could improve on is video length. A lot of these videos could be split up into more manageable sessions. Many 90+ minute videos could have been split up into shorter sections.
For example, the two video about playing in position postflop could have been split into about four videos to make it more manageable. Yes, that requires more video editing, but students are going to be much more willing to digest 45 minutes of footage over 90+ minute videos.
Tournament Master Class Cost: Investment in Your Poker Future
You need to realize that poker training should be looked at as an investment towards future profits. Like any other form of investment, sometimes you have to pay a bit more to realize a higher future return.
The Poker Tournament Master Course is currently $664 but you can get $80 off using coupon code "HOWTOAPP" for a total of $584.
While that sounds like a high price, you must realize that you get lifetime access to this course. Over the course of years, that's just $50 a month. Over five years, that's about $10 a month. Do you think you can afford to spend $10 a month over the next five years to become a better poker player?
You can also jump into the expert level class if you are ready to take a full dive in for all they have to offer for a total of $1069 with coupon code "HOWTOEXP" that gets you $150 off.
You have unlimited access to these videos 24-7, and if bencb789 updates the materials or adds new videos, you will have access to his latest strategies. The Tournament Masterclass is an excellent all-in-one package that will pay for itself after you take down your first big win in a poker tournament.
Raise Your Edge Review: The Tools To Beat Poker Tournaments
This course is for anyone that wants to become better at tournament poker. However, to be truly successful with this course, you will need to put in the time, study and practice required to get better.
Can the average poker player passively watch these videos and improve their game? Actually, yes they can once you have good starting fundamentals. From my own experience, I already feel I have a better understanding of specific concepts than ever before, so most anyone can learn from this course.
With that said, it is not cost effective for casual players to put up $1,219 for a poker. In addition, if you are a new player, you will find it tough to come to grips with all of the high-level content. In that case, we would recommend another poker training site for tournaments, PokerNerve's Road To Success course.
It's under half the price at $480 (when using coupon code HowToPlayPokerInfo) and starts from the very basics of tournament play and is therefore suitable for players who are new to the game or who have never studied before.
However, if you're a serious tournament player who wants to up their game this is the perfect course.
The Tournament Master Class will give you everything you need to improve your tournament strategy and start winning more often. While you never know what the future will hold, this course will put you in the best position to make your poker dreams a reality.
Summary
Reviewer
Review Date
Reviewed Item
Raise Your Edge Tournament Masterclass
Author Rating