So you are searching for the best poker training site?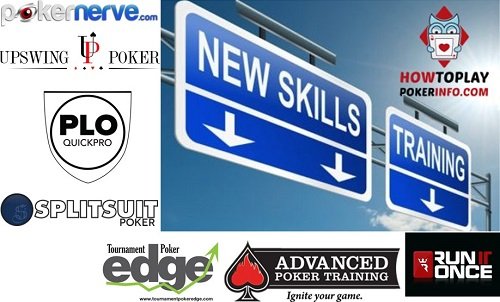 But there are a lot of options and you aren't sure which to go with…
Well, good news… by the end of this review you will know about the 7 best training sites, their pros, their cons and if they are a fit for you.
I have actually worked through each of the pieces of training below (unlike some of the other training site reviews out there  😉 ) and will share the experience I had with each of the sites.
Poker training helped me take my game to a new level when paying my way through university to the point where I was making over $50 per hour part-time.
I was not particularly gifted when it comes to poker so it can do the same for you if you are willing to put in the work.
What Makes A Good Online Poker Training Site Or Course?
Below are the factors I will be considering when ranking and reviewing. These factors may not all apply to you (for example beginner friendly is not going to matter if you are an advanced player) so keep that in mind while coming to your own conclusion.
Beginner friendly – I will be placing more weight on sites which are accessible to novices.
The organisation of content  .i.e random lessons or arranged course (I am a huge fan of courses)
Upfront payment or trial – this is an important consideration. Ideally, you would like to be able to try out the training before purchasing to ensure the coaches or instructors suit your expectations.
How accessible the content is (i.e., downloadable for offline viewing or available through an App)
The return on investment (ROI) for my average reader (beginner -> intermediate).
Based on these factors,  here are the 7 best poker training sites currently on the market:
The 7 Best Poker Training Sites in 2018 For Online Poker Players
| Poker Training Site | Game Type | Cost |
| --- | --- | --- |
| PokerNerve | MTTs | $483 |
| Upswing Poker | No Limit Holdem | $49/month |
| Raise Your Edge | MTTs | $584 |
| Advanced Poker Training | No Limit Holdem | $29/month |
| SplitSuit Poker | No Limit Hold'em | $497 |
| Run It Once | Various | $25-$99/month |
| PLO Quick Pro | Pot Limit Omaha | $497 |
| | | |
Other Poker Training Sites That Almost Made The List
Tournament Poker Edge – Tournament Poker Training
Tournament Poker Edge has been around since 2010, so they are well versed in MTT training. They have some awesome pros who crush at the tables and a cheap price point for access to training.
Tournament Poker Edge is slightly different from PokerNerve. This is a more traditional training site which produces videos on various topics in no particular order. PokerNerve, on the other hand, has a complete course which will take you from a beginner to an advanced level of skill in MTTs. Although, the material Tournament Poker Edge produces is top notch.
You can stream or download the videos for online use with Tournament Poker Edge.
Tournament Poker Edge releases new videos almost every weekday which includes: live sweats, theory videos and general play. They also offer tournament poker strategy articles, pro blogs and a member forum in which the pros are VERY active and a tournament strategy podcast.
Cost: $39 per month or $299 yearly with no signup fee.
Focus: Exclusively multi-table tournaments
Stakes: All MTT stakes
Pros of TPE:
Videos almost every single day
No sign-up fee
Forum with frequently answered questions
Video release rate is over 1 per day
Cons of TPE:
Not the website for you if you want to learn anything but tournament poker
Style of teaching with "unorganised database" of videos is outdated.
Here is a walk-through of the site from a few years back:
When signing up for your first month, make sure that you use tournament poker edge coupon code "GREENCHIP" to get $10 off.
Click here to get your 7-day free trial of Tournament Poker Edge.
Poker Warm Up

Poker Warm Up is a training type applicable to all poker games. This training site teaches you how to warm up and cool down before and after your game. Just like a professional golfer would warm-up before he plays a big tournament, a professional poker player should warm-up too (or even a casual player who wants to improve).
The warm-ups are designed to help you stay in the 'zone' while on the table. For anyone not familiar with the zone, it's the most profitable state you can play poker where every decision you make seems to be on the money. Otherwise known as a 'flow state'.
The three main reasons to warm-up according to the PokerWarmUp.com is:
Allows you to sink into the action before hitting the tables
Lowers the chance of  Tilt!
Improves your poker s

tudy as you play
Pokerwarmup.com helps create a structure around your play and study by defining and setting SMART (Significant, Measurable, Attainable, Relevant & Time Orientated) goals. This ensures that every session you know what you should be working on and has the additional benefit of keeping you motivated to work on your game.
This isn't a general warm-up – you can set the goals and leaks to suit your own. Define and input your leaks into pokerwarmup.com which allows you to track and work on them over time. The types of leaks you can define could be technical, mind, concentration & focus and distractions around the table.
You can also make use of their session timer – I would use this to make sure I take short breaks every hour to keep my mind fresh.
The premium version of the PokerWarmUp starts at $3 per month, or you can grab it for $30 for the year.
Join the Poker Warm Up today and add some structure to your poker game.
Red Chip Poker – Texas Holdem Training
Red Chip Poker is a recent poker training website, co-founded by Doug Hall and James 'Splitsuit' Sweeney, designed to help you play smarter poker. With a sleek website design and great free content, you know what to expect with their paid poker coaching videos and other content.
You can get plenty of free information from Red Chip Poker just by following their Twitter and Facebook pages.
Here is some of the content you can find at Red Chip Poker:
Live $1/$2 NL Crash Course

The $1/$2 NL crash course is designed to teach you the basics of beating the low limit brick and mortar games you will find in your local casino. It covers the following topics in detail:
C-Betting, 3-Betting & Aggression
Hand Reading & Range Building
Pain Thresholds & Bet Sizing
Pre-Flop & Post-Flop Planning
Exploiting Weak & Unstudied Players
Game Theory Optimal Strategies
Bluffing & Barreling
Mental Game & more…
You can pick up the $1/$2 crash course here for $39.
MTT Crash Course
The MTT crash course will help take you from beginner to competent level tournament player covering the most important concepts which lead to tournament success.
Constructing & Reading Ranges
3-Betting & Applied Aggression
Stealing & Re-Stealing
Leveraging Stack Size
Early, Middle and Late-Stage Play
Independent Chip Modelling
Mental Resilience & more…
 Push/Fold Charts
Short Stack Play
 STTs & Bounty Tournaments
You can check out the MTT crash course here for $39.
My Poker Coaching – Specialised Training

My Poker Coaching is an up and coming Hold'em training site run by Tadas Peckaitis, aimed at improving your poker game to help you win more on the tables. He offers a great set of courses for free which you can pick up at this how to win at poker blog post –  I'd highly recommend you check this poker coaching site out!
Cost: €59 per month
Pros of My Poker Coaching
Hands-on coaching with database analysis, leak finder video and unexploitable preflop poker course.
Personalised coaching programs.
Video coaching programs covering a range of topics.
Free poker book which has some great tips no matter your poker experience
Click here to find out more about My Poker Coaching.
Deuces Cracked –  General Training
DeucesCracked was formed during the poker boom era of 2007 poker and being ten years old now has a wealth of knowledge on poker of all kinds. Although it is chiefly focused on 6max you can find great information on almost all poker games types.
I was a member of deuces cracked for almost three years, and it helped me take my game to the next level.
Pros:
7-day free trial
Active forums where you can ask questions and get answers from the pros
More than 3000 videos in a huge archive
You can get a big reduction in price by buying a 6-month sub
No sign-up fee
Simple pricing structure
Cons:
Lack of tournament & sit and go videos
Low publishing frequency
The non-course format makes finding what you need to know next difficult.
Some content out of date
Click here to sign up and get a free 7-day trial of Deuces Cracked.
Drag The Bar – General Training
Drag The Bar is a free poker training site which was set up by Dusty "Leatherass" Schmidt.
This site was one of the best poker resources, and the produced some excellent content particularly back in the initial training boom.
Since then, they have been bought by a number of poker rooms (most recently Americas Card Room) and have made all their content freely available. They cater to cash games, tournaments sit and goes and also discuss the mental game of poker.
However, there are some issues with the DragTheBar:
As a new player, it is difficult if not impossible to know which videos to watch or learn next when the content isn't organised into a course or series format. There are over 1500 videos dating all the way back to 2009, so one could easily get lost in all of this poker content. There are content filters, but they still return an overwhelming amount of content.
To watch the videos, you have to turn on flash player. Apple moved away from flash as early as 2010 and Google sees flash as a 'major hindrance' for good design and web usability. It's unclear why they are still using flash player in 2018.
Overall the site is little clunky, loads slowly and need some tender love and care.
It's a shame that the issues above haven't been resolved as DTB used to be one of the best training sites on the market. It could easily be brought back to its former glory if some time and effort was put into developing the site.
Despite these issues, I would still recommend that you check out what DragTheBar has to offer as it is completely free and a good way to get started with your poker development journey. All you have to do is register to view the full videos.
As a first step, I would check out the two-part series: mental game at the micros by Nathan Williams.
List Of Other Training Sites On The Market
Here are some of the other sites which didn't make it into the list:
Crush Live Poker – The main training site dedicated to live poker. This is a site we plan to review soon.
Poker School Online –  was previously a paid training site but has since been taken over by PokerStars.com which has made this a free to access. The only prerequisite is that you have to set up a PokerStars account to access the training material.
Grinder School – provides online strategy for low stakes players and have over 2500 videos. They have recently been taken over by PartTimePoker which has allows these videos to become free to access.
Poker In A Box – A site run by poker pro Mike Gano which provides free poker strategy in the form of poker articles and videos. They also have some low cost paid products targeted at specific parts of your game such as cbetting, blind play and 3betting.
Gripsed Poker – A well-designed training site that has lots of free content (particularly on youtube) and paid training courses. We plan to do a more detail review of this site soon.
Heads Up SNG – They have a range of products focused on hyper turbos, sit and goes, and heads up sit and goes including HUDs, video packs and software.
SIT n GO GRINDERS –  This sells video packs on Sit 'n' Go play but isn't active on any social media platforms, podcasts or youtube. I cannot vouch for their content (as I haven't checked it out) but due to the lack of activity, I would tend to avoid this site.
PokerStrategy.com – A free strategy site which has over 8 million members including videos an strategy articles. Covers all game types and is a great place to start if you an absolute beginner.
AlecTorelli.com – A site run by Alec Torrelli with a range of training options.
Poker Mind Coach –  A training website run by Elliot Roe which targets the mindset side of improving your poker game.
Training Sites To Avoid
BlueFirePoker – Another old site which has ceased to produce new content. Their website looks like a stock WordPress theme which doesn't bode well for the training content. Also, their training pricing is inconsistent which shows an apparent lack of attention to detail:
IveyLeauge – A site headed by Phil Ivey which has ceased creating new content since April 2017. Although they are still accepting signups, is not recommended that you join due to the lack of new content.
Card Runners – This site used to be one of the main training sites along with DeucesCracked. However, they have been bought out by MaxValueSoftware, and the production of training content has ceased. Unfortunately, the website is now just an advertisement for Holdem manager and PokerTracker.
Conclusion On The Best Poker Training Sites
So there are the 7 best poker training sites 2018 by HowToPlayPokerInfo. This is by no means an exhaustive list, and there could be other great sites out there that I missed.
Only starting out with poker and not ready for the investment of a poker website? Check out our poker cheat sheet page which will tell you everything you need to know to get started with Texas Holdem.
Good luck with finding the most suitable poker training for you!
Note: HowToPlayPokerInfo may earn an affiliate commission if you sign up to one of the poker training sites through one of the links above (at no extra cost to you).
Last Updated: 02 July 2018