So you are searching for the best poker training site…. and one that works fast. But there are a lot of options and you aren't sure which to go with…
You are not alone: it's a common question I see asked all of the time.
Poker training helped me take my game to a new level when paying my way through university to the point where I was making over $50 per hour part-time.
I was not particularly gifted when it comes to poker so you can definitely do much better if you are willing to put in the work.
So here are…
The 7 Best Poker Training Sites in 2019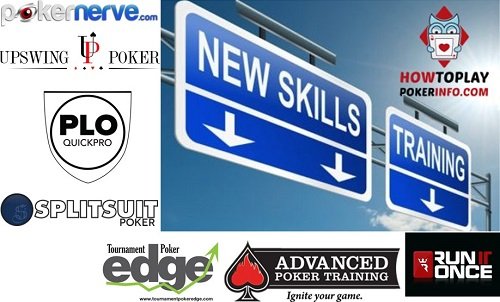 So here are the best poker training sites on the market today:
Read on for all the details on each training option.
---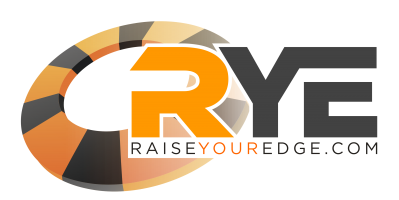 When I heard that  "bencb789" (who is one of the biggest online tournamen t winners of the last few years) made a course, I was itching to get started! I had also heard lots of great reviews, and to be honest, I have yet to hear of anyone who was disappointed with their purchase.
And I most definitely was not disappointed: I believe this to be the best training site you can get your hands on in 2019.
The course jumps directly into an in-depth range analysis (in the very first lesson!) where bencb789 looks at over 200+ preflop ranges from just about every preflop situation imaginable. Here is an example of one the ranges (opening from button 40-100bb deep) with annotations.
You will learn what hands you should be opening from each position (as a default), how to react to 3bets, 4bets, steals, resteals and nearly every other situation you can think are given in an interactive format like is shown above.
You will also then be taught how to adjust these ranges to your opponents as the course progresses.
Other topics take you through preflop and post flop strategies as well as how to play when short stacked and heads up on the final table. As you would expect, there is a lot to cover on these topics and that is achieved with over 20 hours of professional video content.
The strategy is very in-depth, easy to follow and very methodical and you can tell that a lot of effort has been put into the course.
The caveat with this course is that you are expected to be an intermediate to advanced tournament player before enrolling –  if you aren't aware of pot odds, implied odds, hand ranges, ICM etc, this course isn't for you.
If you aren't sure of these topics, you should check out another one of my favourite MTT courses PokerNerve's Road To Success course – this course starts from the basics and will be more suited to your skill set.
However, if you do know all of these topics and are looking for content to take your game to a new level, you are in for a treat.
If you are interested in jumping into the tournament masterclass you can do so for $659 with the apprentice class (using coupon code HOWTOAPP – $80 discount off normal price) or the expert class for $1144 (using coupon code HOWTOEXP – $150 discount off normal price).
To see the difference between the two tiers, go to their course description page here.
WARNING: As already stated, this course is not for beginners. You will be disappointed if you don't already have a good grasp of advanced poker strategies and you buy this course.
I would recommend the apprentice course to people who are beating low stakes ($10-25 buy ins) and the expert class to those who are beating the $50+.
You can check out our full review of Raise Your Edge Tournament Masterclass here or find more info in the expandable boxes below:
Head over to Raise Your Edge and find out more about the Tournament masterclass here.
---

PokerNerve is a website owned by professional tournament poker player Kelvin "Acesup" Beattie. Kelvin has been a professional poker player for more than 12 years, and he has amassed over $3,000,000 in winnings along with ten triple crowns!
This experience has helped him create one of the best poker courses out there – The Road to Success MTT Poker Course –  which is stated to have everything needed to bring a complete novice to a top-level poker player and is like a university course – an organised series of lessons and not a random assortment of videos
You will start with the basics of MTT play and develop your skills all the way up to advanced topics. Only when you have learned one skill will you be taught the next.
This course covers a considerable amount of information on MTTs and in total, has over 80 hours of video content. Find out more:
Here is a great story from Jack Sinclair who started out with the Road To Success only a short time ago:
This course also comes with a 7-day Free Trial with one click cancellation so you can test out this tournament poker training with unrestricted access before committing.
The premium course is currently retailing at $690 (once off), and the basic at $139 but you can get 25% off ($175 off the premium course and $30 off the basic course) using coupon code HOWTOPLAYPOKERINFO.
Pokernerve also has a free email MTT course on the "The 3 underused skills essential to tournament success" which you can check out here – lots of good content in this course so I highly recommend it!
I would recommend this course for beginners or intermediate tournament players who play 1$-$50 stakes online or $20-$150 live and want to improve their game.
There is the basic Road To Success course which you can pick up for $97 but I would only recommend that if you were an absolute beginner. Otherwise, jump straight into the premium course trial to check it out.
Click here to find out more about the Road To Success Premium MTT Course and start your 7-day trial or find more info in the expandable boxes below:
Disclaimer: I help out at PokerNerve with website technical support. However, I have tried to be as unbiased as possible in this review.

---

Upswing Poker is among the new breed of well-designed Texas holdem training sites started by Doug Polk and Ryan Fee –  for those of you who have never heard of Doug he is a high stakes crusher who has become a poker superstar in the last few years.
Upswing Poker Lab
The Upswing Poker Lab is a No-Limit Holdem membership course that is updated each month with in-depth theory modules and in my opinion, it is a great overall poker training resource.
This poker training is getting excellent reviews as it has everything required to bring you from a complete beginner poker player, up to a relatively high level. The only requirement for starting with the lab is that you know the rules of the game ( i.e. this course also starts at the very basics).
The course is broken down into 6 Modules which you should work through in this order:
Lab Core Strategy
Advanced Lab Strategies
MTT's
Live Poker
Mini-Courses
Plays And Explains
The advanced strategies cover some high-level concepts such as overbetting (one of my favourite tactics) and aggressive 4betting, which (if correctly implemented) will take your poker game to a new level.
However, my favourite part of the lab is the hand range viewer which tells you exactly which hands you should be playing for basically every starting hand situation. This is similar to raise your edge, although not as detailed. But you also get cash game ranges as well as MTT ranges (yes there is a big differences!).
The range viewer takes the guesswork out of your preflop game and gives you a solid base to work from. If you are new to poker or haven't seen ranges like this before, you will see huge leaps in your game just by following these charts.
If you would like to learn more, I walk through the upswing poker lab in a LOT more detail in my video review here:
Upswing Poker Lab Pros
Find more info in the expandable boxes below:
Find out more about the Upswing Lab here
---
Advanced Poker Training is a cool poker trainer which isn't like many of the other training sites out there – it's a live poker training experience. (We take a more detailed look at this site in our Advanced Poker Training review here.)
While training you play hands against AI opponents allowing you to get real-time advice and feedback on your game.
Additionally, you can quick fold hands which you don't plan on playing meaning the game moves FAST. This means you can condense your training into a very short amount of time.
The other feature of this training style is that it allows you to work specifically on the weakest part of your game. For example, if you have trouble exploiting weak, passive players, set the game to include weak, passive players and learn how to beat them quickly.
When you start up a game you will be faced with this screen which allows you to adjust the game to however you want: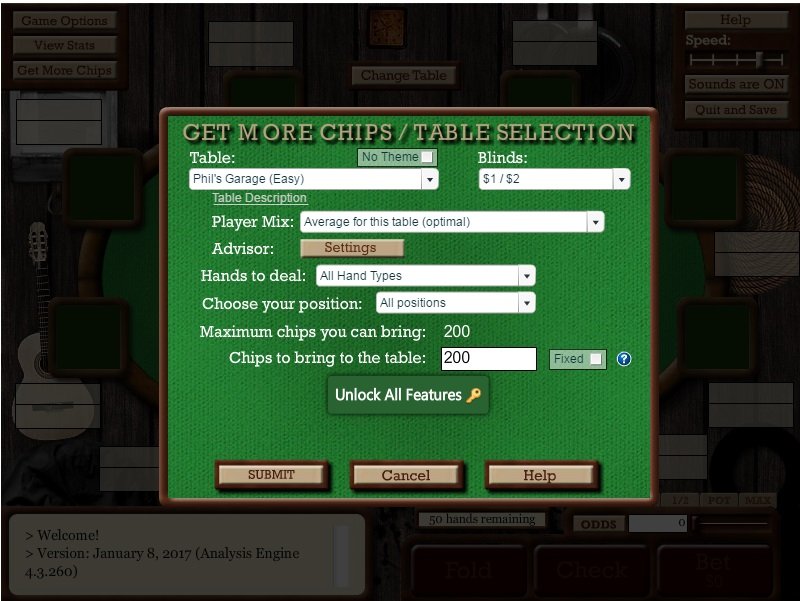 Then you can move onto the table where you can start learning:
You can also get hold of weekly reports which tell you the weakest parts of your game and areas you need to focus.
You can try out this training for free by –  however, the majority of the choices are locked unless you upgrade to a premium account. With a premium account you have the following options:
Game choices of Fullring, 6max, heads-up (cash or SNG), single table tournaments or multi-table tournaments.
Difficulty choices of: Easy to very hard
Blind levels $1/$2 to $500/$1000
Player mixes of passive to aggressive or unknown
Rotated positions or fixed
Various hand types
As a result, you can target any part of your game that needs work, play many hands quickly and get real-time feedback on your choices – it is a speedy way to improve your game.
The premium account costs $29 per month with discounts for upfront payments of semi-annual ($119) and annual ($199) when using the Advanced Poker Training coupon code HOWTOPLAY (25% discount).  You should try before buying which you can do with a free account using the link below.
Check out more details on Advanced Poker Training in their video below:
Get all the details on the Advanced Poker Training program here. 

---



SplitSuit Poker is run by James Sweeney who is a renowned coach in the poker industry. In my opinion, James owns one of the best Hold'em training sites out there.
He has worked with 500+ students, has written a best-selling poker book, and made hundreds of videos.
James even taught me to play poker in during my early days over at the thepokerbank.com.
SplitSuit has lots of great content such as his just-released book Unfolding Poker which focuses on texas holdem. However, the product we will be looking at today applies to all types of poker.
The Hand Reading Lab
If you are genuinely dedicated to improving your hand reading skills, you can look no further than SplitSuit's flagship course The Hand Reading Lab – one of my favourite pieces of training content.
Being able to read a players hand is one of the most critical skills in poker and translates no matter if you're playing heads up, 6max or full-ring, live or online. This skill is comprehensively developed from the ground up in The Hand Reading Lab course.
The lab is a step by step system which teaches you how to put your opponent on the correct range at the right times so you can bluff more effectively, value bet more thinly and increase your overall win rate.
The course contains 27 videos which begin with the Law of The Three Ls for reading hands:  Linear, Logic and Learning which help you put a structure around the hand reading process.
Other videos cover essential concepts such as:
the shapes of ranges,
playing in 3bet and 4bet pots
exploiting capped ranges
flopzilla training
lots of great examples
Here is the full course content:
You are guaranteed to see huge advances in your hand reading ability if you put in the time with this course.
This poker course is focused primarily at $1/$2 and $2/$5 live, but I would recommend this course to anyone who is serious about poker, no matter their game type.
Bonuses included with the course include:
$60 value Hand Reading webinar
$35 Hand Reading Live Tags
$25 Flopzilla licence
$40 value custom flopzilla ranges
You can find out more about the HRL and pick it up here for $497 with a 30-day money-back guarantee. Note: content can be downloaded, but you forfeit your right to the 30-day money back guarantee.
If you sign up to the HRL today through the link below, you will get a free 2.5 hour webinar on "playing vs unknowns" absolutely free. Just email me at admin@howtoplaypokerinfo.com with your receipt, and I will send it across 🙂
Splitsuit's work is always top drawer and to see a sample of his content you should definitely check out the SplitSuit blog or all of his premium content here.
---
Run It Once is a training site ran by Phil Galfond, one of the most renowned poker players and coaches in the business and they currently have 110 world class coaches on their roster. Their library is HUGE as it contains almost 4,000 pro training videos and two new videos are released daily.
What sets RIO apart from other training sites is the quality and quantity of their instructors –  they have online legends such as Ben "Sauce123" Sulky, and tournament crusher Jason "NovaSky" Koon.
Phil Galfond is no slouch either – he is often regarded as one of the greatest players to grace the game.
Regarding the community, RIO's is one the best out there (from what I have seen) which you can join for free and have full forum access.
Otherwise, you can sign up for the Essentials pack which is $25 per month (targetted towards low stakes) or the Elite pack (high stakes 500nl+) which is $99 per month.
RIO also have an app which you can use to watch the training videos on your phone or tablet.
However, the negative this content structure is the fact that it can be quite difficult to know "what you need to know" and therefore what content you should consume next. With over 1500 videos for the essentials package, you can easily get lost and not know where to start.
In my opinion, course type formats are significantly easier to digest and follow, particularly as a beginner poker player.
"Random video" type training sites are a thing of the past: just look at DeucesCracked and Cardrunners (two of the biggest training sites of the last 10 years). They are out of business because students don't want to sift through 1000's of videos and consume content all they.
They want an easy to follow course which will teach them everything they need to know.
Overall, this is one of the best training sites for content out there and no doubt signing up will significantly improve your game if you already have good poker fundamentals. However, the lack of content structure and requirement for the student to "know what he needs to know" is where RIO falls down in my opinion.
Head over to RunItOnce to find out more.
---
The majority of the training I recommend on this page is NLHE based for one reason: NLHE is the most popular game of poker and hence is the type of training that most players are trying to find. However, there is a new game in town, and that is PLO (Pot Limit Omaha).
Omaha in some ways is similar to Holdem – there are the flop turn and river community cards so it will be familiar to a traditional NLHE player – but it plays very differently. Since you are dealt 4 cards preflop, you have 6 combinations of 2 card hands possible in your holdings (in other words you have 6 hands at the same time). This means equities run closes together than Holdem and makes Omaha more of a drawing game in comparison to Holdem.
A lot of Holdem players are moving over to Omaha because there:
The regs aren't as skilled as Holdem
There is a lot of fish and hence money to be made in Omaha
The game is a lot more exciting
So we need some training for Omaha in this list of poker courses and training 🙂
If you are are interested in learning PLO, we recommend you start off with PLO Quick Pro Stats. Here is John to describe what PLO Quick stats is all about:
This book costs $19 on Amazon, but you can get an awesome deal where you grab it for just the shipping costs. You can check that deal out here.
For more advanced training, PLO Quick Pro's flagship online training comes in the form of their Win$1K. This course is designed specifically for new or transitioning NLHE players.
There are over 15 hours of hours of carefully crafted exams, PDF's, slide shows and detailed hand history review and this curriculum show you how to build a complete framework of PLO theory.
I just jumped into the course and not having known much about PLO (played a couple of times before compared to 1000's of hours of NLHE), I was extremely satisfied with the content.
The first module is designed to draw parallels between NLHE and PLO so that transitioning players can immediately grasp the adjustments you need to make when playing PLO. After watching the first module, I jumped into a game and felt I had a much better idea of my overall strategy and the adjustments I needed to make.
If you have ever thought about trying PLO, this is the course you need to get you up to speed on the game. This is exactly the training a Holdem player needs to transition to Omaha quickly, and if you play anything but the 2 or 5nl, this course will pay for itself in no time.  You can pick the course up for $497 or 6 payments of $97.
Here is an example of the owner of PLO Quick Pro reviewing a hand history so you can check out his style:
You can learn more about PLO Quick Pro and the Win$1k course here.
Other Poker Training Sites That Almost Made The List
Tournament Poker Edge – Tournament Poker Training
Tournament Poker Edge has been around since 2010, so they are well versed in MTT training. They have some awesome pros who crush at the tables and a cheap price point for access to training.
Tournament Poker Edge is slightly different from PokerNerve. This is a more traditional training site which produces videos on various topics in no particular order. PokerNerve, on the other hand, has a complete course which will take you from a beginner to an advanced level of skill in MTTs. Although, the material Tournament Poker Edge produces is top notch.
You can stream or download the videos for online use with Tournament Poker Edge.
Tournament Poker Edge releases new videos almost every weekday which includes: live sweats, theory videos and general play. They also offer tournament poker strategy articles, pro blogs and a member forum in which the pros are VERY active and a tournament strategy podcast.
Cost: $39 per month or $299 yearly with no signup fee.
Focus: Exclusively multi-table tournaments
Stakes: All MTT stakes
Pros of TPE:
Videos almost every single day
No sign-up fee
Forum with frequently answered questions
Video release rate is over 1 per day
Cons of TPE:
Not the website for you if you want to learn anything but tournament poker
Style of teaching with "unorganised database" of videos is outdated.
Here is a walk-through of the site from a few years back:
When signing up for your first month, make sure that you use tournament poker edge coupon code GREENCHIP to get $10 off.
Click here to get your 7-day free trial of Tournament Poker Edge.
Poker Warm Up

Poker Warm Up is a training type applicable to all poker games. This training site teaches you how to warm up and cool down before and after your game. Just like a professional golfer would warm-up before he plays a big tournament, a professional poker player should warm-up too (or even a casual player who wants to improve).
The warm-ups are designed to help you stay in the 'zone' while on the table. For anyone not familiar with the zone, it's the most profitable state you can play poker where every decision you make seems to be on the money. Otherwise known as a 'flow state'.
The three main reasons to warm-up according to the PokerWarmUp.com is:
Allows you to sink into the action before hitting the tables
Lowers the chance of  Tilt!
Improves your poker s

tudy as you play
Pokerwarmup.com helps create a structure around your play and study by defining and setting SMART (Significant, Measurable, Attainable, Relevant & Time Orientated) goals. This ensures that every session you know what you should be working on and has the additional benefit of keeping you motivated to work on your game.
This isn't a general warm-up – you can set the goals and leaks to suit your own. Define and input your leaks into pokerwarmup.com which allows you to track and work on them over time. The types of leaks you can define could be technical, mind, concentration & focus and distractions around the table.
You can also make use of their session timer – I would use this to make sure I take short breaks every hour to keep my mind fresh.
The premium version of the PokerWarmUp starts at $3 per month, or you can grab it for $30 for the year.
Join the Poker Warm Up today and add some structure to your poker game.
Red Chip Poker – Texas Holdem Training
Red Chip Poker is a recent poker training website, co-founded by Doug Hall and James 'Splitsuit' Sweeney, designed to help you play smarter poker. With a sleek website design and great free content, you know what to expect with their paid poker coaching videos and other content.
You can get plenty of free information from Red Chip Poker just by following their Twitter and Facebook pages.
Here is some of the content you can find at Red Chip Poker:
Live $1/$2 NL Crash Course

The $1/$2 NL crash course is designed to teach you the basics of beating the low limit brick and mortar games you will find in your local casino. It covers the following topics in detail:
C-Betting, 3-Betting & Aggression
Hand Reading & Range Building
Pain Thresholds & Bet Sizing
Pre-Flop & Post-Flop Planning
Exploiting Weak & Unstudied Players
Game Theory Optimal Strategies
Bluffing & Barreling
Mental Game & more…
You can pick up the $1/$2 crash course here for $39.
MTT Crash Course
The MTT crash course will help take you from beginner to competent level tournament player covering the most important concepts which lead to tournament success.
Constructing & Reading Ranges
3-Betting & Applied Aggression
Stealing & Re-Stealing
Leveraging Stack Size
Early, Middle and Late-Stage Play
Independent Chip Modelling
Mental Resilience & more…
 Push/Fold Charts
Short Stack Play
 STTs & Bounty Tournaments
You can check out the MTT crash course here for $39.
My Poker Coaching – Specialised Training

My Poker Coaching is an up and coming Hold'em training site run by Tadas Peckaitis, aimed at improving your poker game to help you win more on the tables. He offers a great set of courses for free which you can pick up at this how to win at poker blog post –  I'd highly recommend you check this poker coaching site out!
Cost: €59 per month
Pros of My Poker Coaching
Hands-on coaching with database analysis, leak finder video and unexploitable preflop poker course.
Personalised coaching programs.
Video coaching programs covering a range of topics.
Free poker book which has some great tips no matter your poker experience
Click here to find out more about My Poker Coaching.
Deuces Cracked –  General Training
DeucesCracked was formed during the poker boom era of 2007 poker and being ten years old now has a wealth of knowledge on poker of all kinds. Although it is chiefly focused on 6max you can find great information on almost all poker games types.
I was a member of deuces cracked for almost three years, and it helped me take my game to the next level.
Pros:
7-day free trial
Active forums where you can ask questions and get answers from the pros
More than 3000 videos in a huge archive
You can get a big reduction in price by buying a 6-month sub
No sign-up fee
Simple pricing structure
Cons:
Lack of tournament & sit and go videos
Low publishing frequency
The non-course format makes finding what you need to know next difficult.
Some content out of date
Click here to sign up and get a free 7-day trial of Deuces Cracked.
Drag The Bar – General Training
Drag The Bar is a free poker training site which was set up by Dusty "Leatherass" Schmidt.
This site was one of the best poker resources, and the produced some excellent content particularly back in the initial training boom.
Since then, they have been bought by a number of poker rooms (most recently Americas Card Room) and have made all their content freely available. They cater to cash games, tournaments sit and goes and also discuss the mental game of poker.
However, there are some issues with the DragTheBar:
As a new player, it is difficult if not impossible to know which videos to watch or learn next when the content isn't organised into a course or series format. There are over 1500 videos dating all the way back to 2009, so one could easily get lost in all of this poker content. There are content filters, but they still return an overwhelming amount of content.
To watch the videos, you have to turn on flash player. Apple moved away from flash as early as 2010 and Google sees flash as a 'major hindrance' for good design and web usability. It's unclear why they are still using flash player in 2019.
Overall the site is little clunky, loads slowly and need some tender love and care.
It's a shame that the issues above haven't been resolved as DTB used to be one of the best training sites on the market. It could easily be brought back to its former glory if some time and effort was put into developing the site.
Despite these issues, I would still recommend that you check out what DragTheBar has to offer as it is completely free and a good way to get started with your poker development journey. All you have to do is register to view the full videos.
As a first step, I would check out the two-part series: mental game at the micros by Nathan Williams.
List Of Other Training Sites On The Market
Here are some of the other sites which didn't make it into the list:
Crush Live Poker – The main training site dedicated to live poker. This is a site we plan to review soon.
Poker School Online –  was previously a paid training site but has since been taken over by PokerStars.com which has made this a free to access. The only prerequisite is that you have to set up a PokerStars account to access the training material.
Grinder School – provides online strategy for low stakes players and have over 2500 videos. They have recently been taken over by PartTimePoker which has allows these videos to become free to access.
Poker In A Box – A site run by poker pro Mike Gano which provides free poker strategy in the form of poker articles and videos. They also have some low cost paid products targeted at specific parts of your game such as cbetting, blind play and 3betting.
Gripsed Poker – A well-designed training site that has lots of free content (particularly on youtube) and paid training courses. We plan to do a more detail review of this site soon.
Heads Up SNG – They have a range of products focused on hyper turbos, sit and goes, and heads up sit and goes including HUDs, video packs and software.
SIT n GO GRINDERS –  This sells video packs on Sit 'n' Go play but isn't active on any social media platforms, podcasts or youtube. I cannot vouch for their content (as I haven't checked it out) but due to the lack of activity, I would tend to avoid this site.
PokerStrategy.com – A free strategy site which has over 8 million members including videos an strategy articles. Covers all game types and is a great place to start if you an absolute beginner.
AlecTorelli.com – A site run by Alec Torrelli with a range of training options.
Poker Mind Coach –  A training website run by Elliot Roe which targets the mindset side of improving your poker game.
Training Sites To Avoid
BlueFirePoker – Another old site which has ceased to produce new content. Their website looks like a stock WordPress theme which doesn't bode well for the training content. Also, their training pricing is inconsistent which shows an apparent lack of attention to detail:
IveyLeauge – A site headed by Phil Ivey which has ceased creating new content since April 2017. Although they are still accepting signups, is not recommended that you join due to the lack of new content.
Card Runners – This site used to be one of the main training sites along with DeucesCracked. However, they have been bought out by MaxValueSoftware, and the production of training content has ceased. Unfortunately, the website is now just an advertisement for Holdem manager and PokerTracker.
Are Poker Training Sites Worth It?
I am a big advocate of poker training sites as I suggested in the intro for one reason: it's an investment in your poker game.
What you learn from the poker training site won't just help you now, it will help you anytime you play in the future.
Any improvement you make to your winrate, be it only 1bb/100, will soon pay back the price of admission to a course or training site.
Now of course if you are playing $2nl or $5nl or only playing 1-2 hours a week, buying a $1000 course does not make any sense. You should start off with something cheaper that will be more suited to your skill level.
However, if you are playing $25nl or $20 tournaments or larger , you will be missing out as the majority of the other regs on the table will be doing some form of training and trying to improve their game.
The sooner you start with a training site, the sooner you can realise the gains on your winrate and earn back what you spent on training!
Conclusion On The Best Poker Training Sites
So there are the 7 best poker training sites 2019 by HowToPlayPokerInfo. This is by no means an exhaustive list, and there could be other great sites out there that I missed.
So go check out one of the sites above and make sure you let me know what you think!Good luck with finding the most suitable poker training for you!
Is there other poker training you would like evaluated? If so, email me at admin@howtoplaypokerinfo.com and I will check it out.
Note: Although we earn a commission (at no cost to you) for some of the above training sites, we have not let that impact our ratings. Our rating system is based solely on the quality of the training provided, and not on any commissions we may receive.
Last Updated: 07 April 2019