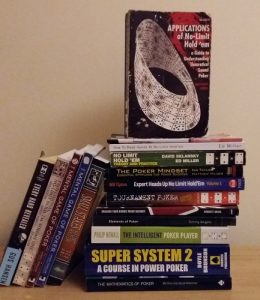 Poker is not an easy game, and those who want to stay ahead of the curve need every bit of help they can get.
Books are one of the best sources of organised information you can find on the subject of poker, and one of the best ways to improve your poker game.
Unfortunately, some poker books are not as applicable in today's games; whereas some are gold mines which will skyrocket your game, despite their age.
Below, we list books which are relevant and useful on the felt today, as a lot of books haven't aged very well.
So here is my list of the best poker books in 2020 that you can get your hands on in (organised by Amazon rating):
Poker Math & Preflop Workbook by James "Splitsuit" Sweeney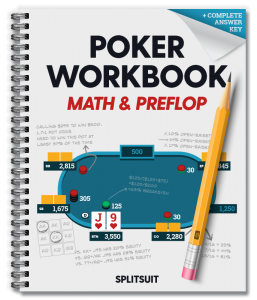 This is the first poker book to be released in 2020, and it's off to an amazing start with a perfect 5/5 star rating on Amazon.
If you are serious about playing better poker, you need to fully grasp the underlying math but you don't need an IQ of 195 to do these calculations. You just need to learn the key formulas, practice putting them to use, and train your brain to precisely and automatically estimate the math during sessions.
And that's exactly what this workbook does. You'll learn and practice basic math concepts like pot odds, implied odds, and combos and eventually get into more complex topics like EV (expected value), 3betting, and preflop all-ins.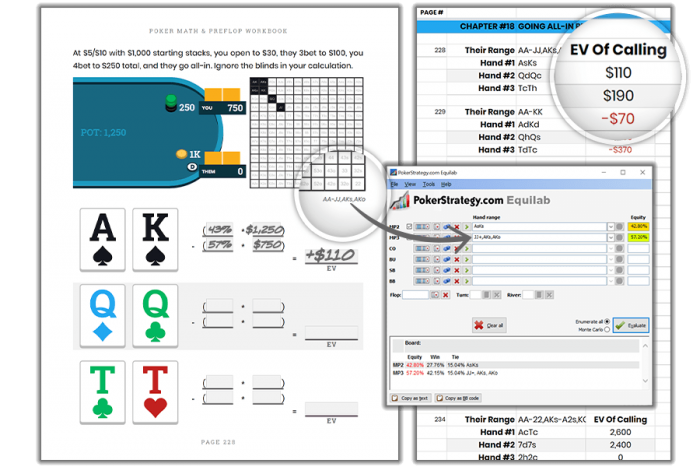 Each chapter includes information about the concept, gives you all necessary formulas, and then lays out example after example for you to put your skills to use.
The paperback is also full-color, which is rare for poker books given how expensive full-color printing is compared to traditional black and white. And the workbook is large size (8"x10") so you don't need to squint to see the ranges. If you grab the ebook version instead, you'll find that you can write directly into the workbook and save your answers for simple review.
The Poker Math & Preflop Workbook is over 200 pages, has 1,500+ questions, and includes a full answer key so you can ensure you got everything correct. Author James "SplitSuit" Sweeney suggests doing a few pages per day to build a +EV habit that results in excellent retention – and I think that's 100% worth your time to do!
Here is a positive review from Amazon from Matt Beckett:
Math underscores poker's hand ranges, EV, frequencies, and bet-sizing among other things. But nobody wants to spend time doing it in detail at the table. This book is designed to help players visualize ranges, see +EV spots and most importantly – to spot patterns in common situations at the table. By doing this work off-table, you'll learn to estimate this stuff quickly in-game. Where the book gives you multiple choices, it also explains clearly the pros and cons of each. The book pairs well with standard poker analysis software too. Finally, the answer sheet is excellent; clear, concise, and ordered easily by page number. Recommended!
There are no negative reviews thus far. You can pick up this book here (Amazon link).
---
Excelling at No-Limit Hold'em by Jonathan Little
Rating: 9.4/10 











How would you like to read the insights and tips from 17 of the top poker pros across the globe all in the one book?
This is what Jonathan Little has put together in this book and as a result, he created one of the best poker books of the last 10 years.
You must be a competent poker player before diving into this one. This book doesn't delve into the basics and jumps head first into more advanced topics.
Excelling at No-Limit Hold'em will make you rethink some of the ideas and strategies you have had ingrained for years (that have been costing you money).
Topics include understanding the fundamentals, satellite play, lower-buy in events, analysing poker tells and moving up in stakes.
You will then move onto a thorough technical breakdown of the game including sections on range analysis, game theory optimal play, short stack strategies, value betting and final table play.
Touted as the new supersystem of the poker world, it has lived up to its hype.
I really enjoyed this book and it helped my game immensely so I would thoroughly recommend it.
Here is the Two Plus Two Forums thread on Excelling at No-Limit Hold'em.
And a positive Amazon review:
Excellent book, probably the most up to date and in-depth book wrote since the Harrington on hold'em series.
A very detailed book in every way and a must for any poker player taking poker seriously and wanting to make money at poker.
Mainly aimed at tournament play and online poker but easily transferable with top contributors from the world of poker…excellent.
And a negative review (the only review less than 4 stars I could find on Amazon):
It is a comprehensive book there are various authors who have given their valuable insights however for an amateur it is difficult to get all the concepts preferred if the book was limited to 3-5 main points to focus on rather than hundreds
 So to repeat, if you are a beginner, I would not recommend this book (for now, anyway).
But for everyone else, it's a must buy!
You can pick up Excelling at No-Limit Hold'em here over on Amazon.
---
How to Study Poker Volume 2 by Sky Matsuhashi
Rating: 9.2/10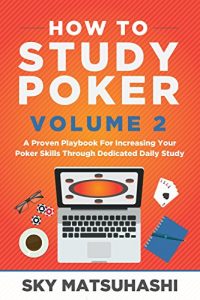 This book is the only relevant poker book on Amazon that I could find that had a 5/5 star rating and I can see why.
The book is sub-titled "A Proven Playbook For Increasing Your Poker Skills Through Dedicated Daily Study" and is a template that you can use to study poker and improve your game very quickly.
Studying is not always easy and often the most difficult part is simply getting started –  but getting started is easy with the strategies given in this book.
Sky gives you a 28-day template where you'll see all the content he studied, his hand reading practices, his database reviews and filters, many poker equity calculations and all the lessons he learned throughout this process.
I would recommend this poker book to anyone who is currently trying to improve their poker game!
Here is a positive review from the UK version of Amazon:
I have been studying poker for some time but always struggled to make decisions about what to study and to see a real impact of that study. I think like many players I scratched the surface of many topics without achieving enough in any specific topic. This book has changed that for me as it sets out a clear process for selection of topics and how to get the knowledge and skill you need on that topic before moving on. This book is a great way to supercharge your other poker material and to get more from these other sources as well. It's a great book indeed; just buy it! Thank you Mr Matsuhashi
There are no negative reviews and hence the 5-star reviews on both Amazon.com and UK.
You can pick up this book here (Amazon link).
---
Every Hand Revealed by Gus Hansen
Rating: 9/10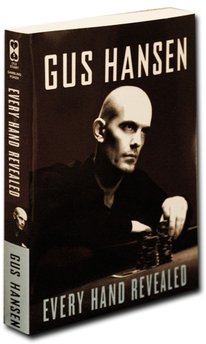 Let me start by saying this book is 10 years old and poker changes quite quickly. However, this is very enjoyable and entertaining read all around.
In this book, you will find out how Gus played every single hand when he won the 2007 Aussie Millions out of a field of 747 players.
Although, some of the poker material from may be outdated a lot of the concepts he uses are still critical to beating the games today.
Even, so if you just want an entertaining read about poker or gambling, this is the book for you.
Gus is one of the best live players to have played the games, having made multiple mega cashes over his career.
Find out how the poker pros think and see how he played every single hand in the tournament. Not only his best hands.
The hands he discussed aren't just glossed over. Each one has a detailed narrative which allows you to understand his thought process for each hand.
It's easy to follow and doesn't require you slog through complex equations or math.
What's not to like?
Check out the Two plus two poker thread for Every Hand Revealed by Gus Hansen.
And a review from Amazon:
"This was a really enjoyable read for me. Gus goes through the 300+ hands that he played in winning some big tournament in Australia and explains his thinking hand by hand. A shame that he didn't mention all the hands he folded preflop – including these would have given a better picture of Gus' play, even if it would have made the book more boring in places
But I'd better tell you why I liked the book before I go any further. It reminded me a bit of reality television. I felt like I was sitting there watching Gus from behind the safety of a TV screen and waiting for the car crash to happen. It was also a bit like listening to Dark Side of the Moon in that it gave me a picture of what goes on inside the head of a barking loon
You see, Gus is a very different player to those that have read through Harrington, Moshman, Gordon et al. His starting requirements for betting are unbelievably loose, he has no respect for position at the table, he spits in the face of Sklansky's Gap Concept, he never folds his blinds,… Need I go on?
This is definitely more a book to read for entertainment than one to learn from, unless
– you need a bit more aggression in your game, or
– you're planning on playing tournaments with big stacks, long blind levels and high antes relative to blinds, or
– you're Andrew "Gutshot" Chow from Bristol, in which case Gus Hansen is relatively sane and might be able to help tighten your game."
And a not so positive review:
I've read a few poker books. This one is very boring, I made it through 1/3rd of the book it's just boring. Every hand revealed is it, a lot of the same reading page after page in my opinion not a good poker book.
I can't fathom how you can find this book boring unless you aren't into poker. It is the complete opposite of boring.
But for the rest of us, I would recommend this book to anyone, beginner or pro.
You can pick Every Hand Revealed here on Amazon.
---
Essential Poker Math by Alton Hardin
Rating: 9/10











Sick of all that complicated math?
"I hate math" & " Just tell me what I need to know", you say?
Well, this is the book for you.
The most important poker math is distilled down to easy to understand and digestible nuggets which will get your mathematical thought process on the right track.
There is a lot of math which can be applied to poker –  but not all of that is practical.
You probably know some of the math, such as counting outs, and a rough idea of pot odds and equity, but maybe doing expected value calculations is just a step too far.
This book takes a simple route and just gives you what you need, in an easy to explain manner so that you don't need a PhD in Theoretical Physics to understand it all!
You can do everything required with just a basic understanding of addition, subtraction, multiplication, division and some practice on the felt.
Examples of what you will learn are how to quickly estimate your equity on the table, whether a drawing hand should be folded or called and how often you need to be right to make them hero calls.
If math is your weak point of the complicated game of poker, I highly recommend this book.
Discussion of Essential Poker Math over at MicroGrinder.com.
Here is an Amazon review:
This is everything you need to know to use math PRACTICALLY when playing good poker. There is no number theory here, there are other books if you want that. But if you want the essential math foundations for your game when making tough 20 or 30-second decisions playing online, then this is the book. If you believe poker is a numbers game, at least as much as a psychological one [and it is], then get this book.
I could not find a review below four stars for this book on Amazon.
You can pick up Essential Poker Math here over on Amazon.
Here is a video explaining Essential Poker Math in more detail:
---
Mental Game of Poker by Jared Tendler
Rating: 8.8/10










This was one of these books that were absolutely vital to my poker development.
So often, players will just work on their technical skills on the poker table and as a result are susceptible to tilting, motivation issues and lack of focus.
The psychology of poker is equally important as your technical skills – if you cannot apply your technical skills due to tilt, motivation, etc. what's use are these skills?
You can remove the 'low hanging fruit' so to speak by putting in the work on your mental game that the other regs aren't doing.
By working on your mental game you are ensuring you play your best more often and remove the really bad days –  hence, your winrate will improve in the long run.
Read the Two plus two poker review of Mental Game of Poker for more info.
Positive Amazon review:
This book is absolutely crucial and should be read by any player moving on from the Beginner stage. Jared's view on tilt and other mental game issues is pretty much novel amongst poker writers but more to the point it's far more on the money and will actually help you cure tilt as opposed to just suppressing it.
This is one of the best poker books I've read and heartily recommend it to everyone.
Have issues with dealing with regs on the table? You will find the answer in this book.
Have issues with spewing off buy-ins over and over? Don't worry there are steps in this book to reduce the likelihood of this happening.
You can even apply the skills you learn from this book to outside of poker. Jared started out life as a golf coach after all.
When you think about all the money you could have saved over the years you will kick yourself. Improve your game now by reading the mental game of poker.
And a critical review:
It's like one long intro.
For me, it highlights why things are the way they are but never actually goes into depth on how to solve them.
Excellent at highlighting problems but telling you to then think about stuff is a bit pointless in my opinion.
In my opinion, the negative reviewer didn't put enough time into working through the quizzes and questions posed by Jared. These are the only way you will improve your mental game. Reading alone won't help.
Unless you really want to improve your game and are willing to put in the work, I wouldn't buy this book.
If on the other hand, you are ready to pick up an edge on all the other lazy regs out there you can pick up the Mental Game of Poker here on Amazon.
---
Elements of Poker by Tommy Angelo
Rating: 8.8/10 











Even at 10 years old, this book has rafts of relevant tidbits which will help you improve your game. Although poker strategy evolves, the mindset, habits of playing solid poker have not.
A total of 144 elements of poker, each of which can add the pieces of your poker game puzzle together and get your playing better poker.
"Bliscipline," is a term coined by Angelo: a combination of bliss and discipline: "when you are at the table and you are so totally in control of yourself and so totally at peace in the situation that no matter what happens next, you'll still have plenty of resolve in reserve."
'Bliscipline' describes exactly what reading and applying this book will bring to your game. One of my favourite poker books.
This book is a great supplement for the topics covered in the Mental Game Of Poker as it covers tilt and managing emotions from a slightly different perspective.
Check out the Two Plus Two thread on Elements of Poker.
Positive review:
This book is unlike any other poker book you'll read. It is not about a particular game or how to play certain cards. It is mostly about limiting your time in what Tommy calls your "C-game". I know a guy who says, "I don't need to read any more poker books; I already know how to play better than I do." Elements of Poker was written with this guy in mind.
Tommy Angelo gives you credit for having a winning A-game. His point is that every minute you spend playing your C-game is costing you a tonne compared to spending that minute in your A-game. I certainly know that if I played my A-game 100% of the time, I would be a substantially better player. Tommy's book has helped me get closer to 100% A-game; I suspect it can do that for most people.
Look, serious poker players don't talk about Elements of Poker much because, well, they'd just as soon play against your C-game than against your A-game. But I promise you that the best serious players have this book and review it often, particularly when things aren't going well.
Read Elements of Poker and watch your C-game diminish from your life. It never leaves completely, unfortunately, but Tommy Angelo can help you keep it mostly behind you.
And a more critical review:
This book is a little dated but does contain a lot of practical poker/life skills that are useful. His take on table and seat selection is important a bit more in depth than most other material.
I wouldn't expect any in-depth strategic information from this book, it contains more of the more subtle skills and ideas required to be a winning player.
I had been playing poker for a couple of years when I read this and found it very useful.
Recommended for the beginner to intermediate. You can pick it up here on Amazon: Elements of Poker.
Tommy Angelo discussed some of the concepts from the book in the video below:
---
Mental Game of Poker 2 by Jared Tendler
Rating: 8.8/10











Jared's second book follows along the same lines as his first but goes into some of the other mental game issues – most importantly playing in the zone.
For those of who are unfamiliar with the zone, it is the "flow like state" that you get into when doing something you enjoy that seems to allow decisions to come to you automatically without conscious thought.
If you can get into the zone while playing poker regularly, it's very powerful.
And if you can implement the tips in these books, you will take your mental game to the next level, no matter how good you think your mental game is today.
I can guarantee that.
I don't post reviews for books often but I had to do that for this book. it has been the best poker book I've read in the last several years. Here is what I posted:
I play poker semi-professionally and this book gave me insights that can truly take my game to the next level. if you are playing poker and have been stuck at the same level for a while or want to read a book that can help you dramatically improve your game then this is the book for you.
None of the bad reviews I read on this book had substance so I haven't included them here. You can check them out over at amazon.com and amazon.co.uk and decide for yourself.
Before reading this book, I would recommend the MGOP 1, but it is not required.
Pick up the Mental Game of Poker 2 here.
---
Applications of No-Limit Hold 'em by Matthew Janda
Rating: 8.6/10











Another book which really helped me improve my poker game. I'd go as far as saying, this book actually changed the way I think about the game completely.
I read this book at least 5 times and have gone back to test, change and test again the hand ranges and examples Matthew gives in the book.
I definitely think this book is underrated on Amazon, but that's just my opinion.
This book is written for advanced players so if you are brand new to the game I wouldn't recommend you dive into this one just yet. Bookmark and come back to it later.
Matthew discusses the important subject of how to 'balance your range' which might seem useless to some.
But the benefit is knowing how to balance a range is knowing how to attack someone who doesn't have a balanced range (99% of all other players).
So this teaches you how to best target and exploit other opponents which are essentially the crux of poker.
I refer to this book as my poker bible and plan to read it again soon as a refresher. Unfortunately, my paperback has seen a bit too much reading: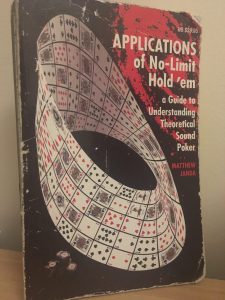 For anyone who has any aspirations of moving up to small stakes and above, make sure you check this book out.
Here is the Two plus Two Poker thread on Applications of No-Limit Hold'em.
Amazon review:
"I've read over 20 books on poker over the years. I've been quite impressed with the quality of poker books recently, compared to several years ago.
This book would be in my top two favourites and most useful poker books, with the other one being Will Tipton's "Expert Heads Up No-Limit Holdem".
His discussion on how to reason balancing has been vital to me. Also, I've found a major leak in my game when playing out-of-position. I'm generally a very aggressive player and almost always prefer betting out monster hands instead of trapping since it grows the pot. I think a common rookie mistake is to get too sneaky-trappy, resulting in smaller pots than monster hands deserve. In general, my choice of aggression vs. trappy has worked out to my advantage."
And a negative one:
The book should one of the first pages clearly state that the approach is an approximation and the results should not be used.
As a theoretical book, it is very poorly written. If it was sold as a non-theoretical book I would give it 2 stars.
The top poker players make lots of approximations in every single hand. How would they know how many hands an opponent may be holding, or what they will do with their hands? They use past experience to APPROXIMATE what they will do.
Approximations aren't perfect, and the better your approximations, the more money you will make.
So, if you are a reasonably experienced poker player, do yourself a favour and improve your approximations by reading this book 🙂
You can pick up Applications of NLHE here (Amazon link).
---
Small Stakes No-Limit Hold'em by Ed Miller
Rating: 8.6/10 











Excellent book by Ed Miller who is a renowned poker author. Everything you need to know to beat the small stakes no limits cash games are contained in this book. It has been described as the ultimate poker handbook.
This book uses real-world hand examples to help translate high-level poker theory into easily understandable strategies that you can apply to your poker game.
It has been described as the ultimate poker handbook which "outlines a powerful path to success".
This book uses real-world hand examples to help translate high-level poker theory into easily understandable strategies that you can apply to your poker game.
Find out the 7 easy steps to No Limit Holdem success, how to deal with aggressive players, and how to maximally exploit the weaker players.
Some other content covered:
Making decisions using steal equity and showdown equity
Beating online 6-max games
Determining optimal bluff sizes and planning big bluffs
Balancing your lines of play to maximize deception
Check out ThinkingPoker.net's review of Small Stakes No-Limit Hold'em.
Here is a review from Amazon:
This was my first and favourite poker strategy book. An absolute goldmine of information and ideas. I've been a recreational player for about 5 years and found something to highlight on pretty much every page I turned. Excellent informative insight, well written and easy to understand. only 6.25 on Kindle as well…. it really is a no-brainer.
And a 3-star negative review:
Will probably hurt your live game rather than help it. They postulate that if you can win at six handed online, you can crush live games. Bad hypothesis. The statistics are all different for live 10 handed play. They devote a chapter to stealing binds that would be reckless if tried in a cash ten-handed game. And their barreling advice is also reckless in a cash game.
Competent players will realise that if you play 6max there will be some adjustments when playing full-ring live games. However, the skills learned in 6max will be directly applied to full-ring live games.
The author isn't suggesting you apply everything no matter what game type. That point seems to be missed with this review.
I would recommend this book for intermediate to advanced players.
You can pick up Small Stakes No-Limit Hold'em on Amazon.
Note: You seem to be able to pick up the kindle version for a fraction of the price of the hardback right now ($35 vs $8 at the time of writing) – a great deal for anyone that doesn't mind not having the paper copy.
---
Strategies for Beating Small Stakes Poker Cash Games by Jonathan Little
Rating: 8.6/10











Excellent poker book rated 4/5 on Amazon for its in-depth cash game poker strategy.
Jonathan little started out small with only a $50 online bankroll. But he has since amassed over $6.4 million dollars in tournament winnings over his career.
Discover the pitfalls and common mistakes along with winning strategies that allow you to target your weaker foe.
Find out how to stop blaming bad luck and learn the real secret to dominating No Limit Hold'em games.
Amazon review:
Just finished reading Jonathan Little newest book: "Strategies for Beating Small Stakes Cash Games," and it's going to be a huge seller, so congratulations on two accomplishments this month. Happy Birthday and continued successes with your outstanding books. (A must get everyone).
Some of my clients have asked what I liked the best about the book: I loved the "postflop skills discussion," the reminder everyone needs about "blocker hands," and especially how to extract more value from certain type players on the river. Johnathan answers the questions you have on your mind playing the 1/2 NL stakes and the kindle version (e-book version), is only 77 pages of pure poker content and sound advice to convince you to "observe," "execute" and "profit," even at the Small Stakes Cash Games. (My recommendation to all that follow me, read my national reviews, and listen to me in my YouTube videos (Al Spath Channel), BUY this book and read it more than once, there is so much useful information it would be a crime if you don't purchase it to allow your game to blossom!
And a negative one:
The book is not worth the hype. Strategies are all pointing to one answer – "IT DEPENDS"!
I would not buy something to get an answer – IT DEPENDS.
The author may be a great tournament player but have fairly limited low stack cash game IQ and experience
Unfortunately, I don't think the reviewer is going to find poker books which provide them with the answers they are trying to find.
The truth is each decision in poker does depend on a myriad of factors. But what good poker books teach us is how to think at each decision point, not when 'x' do 'y'. Not even a computer has enough memory for all the different xs and ys.
If you're looking for definitive answers for how to play poker, don't buy this poker book (or any poker book for that matter).
If you're looking to improve your game, this should be one of the books at the top of your list.
Pick it up here: Strategies for Beating Small Stakes Poker Cash Games
---
Crushing Low Stakes Poker 

by Mike Turner
Rating: 8/10











One of the series of three books in the series by Mike Turner clearly detailing how to play Sit 'n Gos aimed specifically at low stakes.
Not a book for the complete beginner as it is assumed that you know some basic maths and such as pot odds, implied odds and position.
Even if you aren't a Sit 'n Go player this book cans till help you out as a proportion of the material will be directly transferable to cash games and tournaments.
Here is an Amazon review:
I've played poker for a long time socially and have always enjoyed watching it on TV but I've never really been the type of player that plays above the basic level of thinking i.e. "what is my hand?".
It amazes that so many of the world's top players make the final tables time and time again so I decided to invest a little bit of money and open a new account to play online.
Mike Turner breaks down the skill set required to play in lower stakes ($10-$12) Sit n Go tournaments and offers some really insightful information and points us toward some really useful tools that we can use to our advantage. He also introduced the concept of ICM during tournaments to me (I'd never heard of it before).
A lot of the hints and tips in here were a revelation to me, and I now find myself better informed to read other players at the table and finishing in the money more often than not. I am now making plays based on the pot odds being offered to me weighed up against the chances my hand is good.
My only gripe, and its only slight, so it doesn't impact on my rating, is that at times this book feels like a sign posting bible, pointing you here and there for more information (usually at a cost of subscription).
And a 3-star review:
The strategies charts and maths within will give new players a very decent, succinct and easy to follow basic how-to which is what the book offers and delivers for a small price. The small price does mean an understandable and expected lack of content. 3 rather than 4 stars purely for the reason that with a little bit more effort everything within can be found with a couple of Google searches.
This book is mostly for players starting out with Sit 'n Gos. The primary benefit of a book is that the material is organised in a linear manner which makes learning so much easier.
While google searching is free, you can miss out on some important information and it can be sometimes difficult to find a reliable source.
If you are a more advanced player I wouldn't recommend this book for you.
You can pick up Crushing Low Stakes Poker here.
---
Unfolding Poker by James "Splitsuit" Sweeney
Rating: 7.8/10











This FAQ styled book was only recently released by Splitsuit which is subtitled: Advanced Answers To The Most Frequently-Asked Poker Questions
If you are yet to come across Splitsuit, you should know he is an expert poker coach who has released tons of content over the years which you can check out on his website Splitsuit.com.
His content greatly helped me out in my early days of poker so I couldn't recommend his work enough.
Splitsuit wrote this book in front of a live audience on Skype where questions were expertly selected and answered with input from the audience.
So these FAQs were created by micro and low stakes players who couldn't get the answers anywhere else.
The questions answered include, "Making Money in tight games", "When do I hold or fold overpairs", "How to use my table image" and "Hand reading in fishy games" plus loads extra.
What I really like about this book is that it is very easy to read and digest. All of the content is broken down into short chapters so you can pick up the book for 20 minutes, digest some good poker content and then pick it up again a few days later.
This is in contrast to the Mathematics of Poker (MOP) (Amazon link) which is so heavy in math and theory that you need to focus on every single word and sometimes re-read the same page 3 times!
I'm no slouch with math, I am currently studying a PhD in Engineering.
Note: unfolding poker is primarily aimed towards beginners. So it will probably be too basic for someone who is been around the poker block.
If you're not sold yet, here is a positive Amazon review:
If you've followed any of SplitSuit's podcasts or posts, you know what you're getting from this book. His straightforward style with no fluff, all substance is great for improving your game. Between the ebook, audio book and paperback versions, he's got you covered for however you like to consume your media. I like listening to the audio book while reading the actual book to really get his strategies to sink in.
You can pick up Unfolding Poker here on Amazon.
 Crushing The Microstakes by Nathan Williams
Rating: 8/10 











Nathan Williams, the all-time biggest microstakes winner, wrote a step-by-step guide which shows how to crush the 2nl and 5nl games.
Unfortunately, it is not available on Amazon, so no Amazon review. But my rating is 5/5!
Even years later, this book still provides a done for you strategy which explains how you can follow in the footsteps the biggest winner at the micros.
If you are only just starting out as a poker player, I truly think this is one of the best investments you can make.
Here is the Two Plus Two poker thread on the book and a review from a WSOP bracelet winner: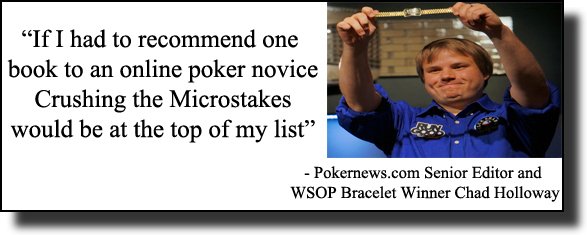 You can pick it up the ebook over at Nathan's 'Blackrain79' blog here: Crushing the Microstakes.
---
Get HowToPlayPokerInfo's Poker Book For Free?
Want to get our poker guide for free?
This simple guide to poker will take you through the basics of the game and provide you with tips specifically designed for the Zynga play money games and low stakes home games! It will also be useful for beginners who are starting with micro stakes online poker.
Use the unlock button below to get instant access:
[signinlocker id="2242″]
Thank you! Get the poker book here https://howtoplaypokerinfo.com/guide
[/signinlocker]
Your Best Poker Books?
So there we are, the best poker books 2020 has given you a list of some of the most influential books to date.
Read up and let us know what you think!
Are there any poker books I have left out? Or do you disagree?
Let us know below.
If you like this best poker books post, you might like our post on the best poker training sites.
Good luck at the tables!
Note: HowToPlayPokerInfo may earn an affiliate commission through some of the recommendations in this post (at no extra cost to you).
Last Updated: 03 Feburary 2020