So you are searching for the best poker training site…. and one that works fast and won't waste your time or money. But there are a lot of options and you aren't sure which to go with…
The truth is that there are at least 103 poker training sites live on the internet right now. Some of these sites aren't very good and some may actually hurt your poker game costing you time, money and effort – so it's important that you make the right choice.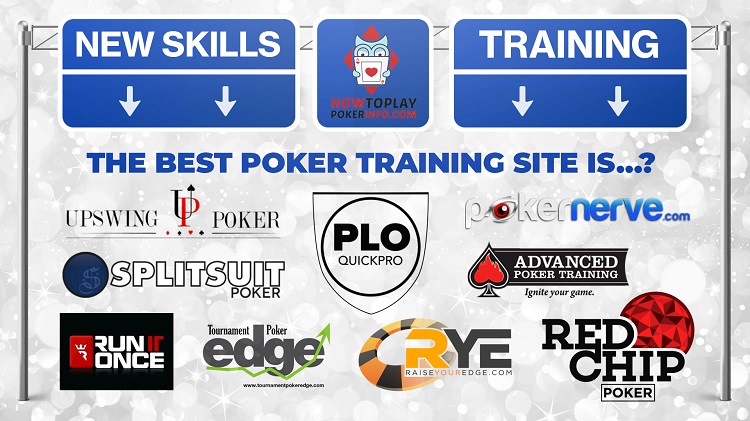 Poker training sites helped me take my game to a new level when paying my way through university to the point where I was making over $50 per hour part-time. 
I was not particularly gifted when it comes to poker and the training options available now are way better, so you can definitely do better if you join the right poker training site and put in the effort.
So let's get straight into it,  here are the best poker training sites of 2023:
---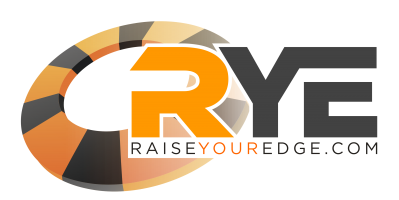 Raise Your Edge has not been around as long as some other poker training sites on this list – however, the owner, Bencb789, has been playing for nearly a decade and is one of the biggest online tournament winners of the last 2-3 years. 
So when I heard that he had started a new training site and created a brand new course dedicated to MTTs, I was itching to get started!
I read lots of rave reviews before signing up for The Tournament masterclass (the only content offered by this training site at the time, almost two years ago) and I most definitely was not disappointed with what was contained inside. 
Since then I have joined single every one of their courses and based on my experience with these, I believe Raise Your Edge to be the best poker training site you can get your hands on in 2022.
So let's jump into discussion of their flagship course, the Tournament Masterclass, but if you are interested in another type of training, I have listed everything they offer right here. 
Featured Course: The Tournament Masterclass
The thing I like most about this course is that it dives straight into an in-depth range analysis (in the very first lesson) where Bencb reviews over 200 preflop ranges from just about every preflop situation imaginable.
There is no time spent on the terminology, the basics of pot odds or other "fluff" you might find in a more beginner targetted training program. This course is ideal for someone who is well versed in online poker tournaments. 
Here is an example of one of the ranges (opening from button 100bb deep) and the huge amount of detail has gone into creating this tool: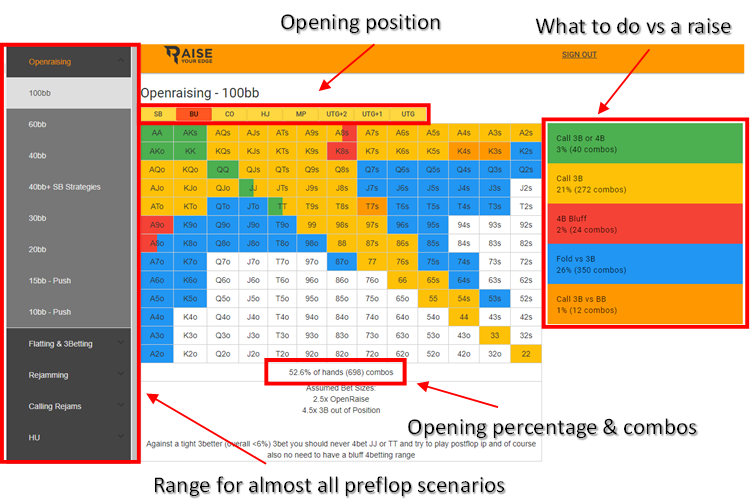 The range viewer shows you what hands you should be opening from each position (as a default), how to react to 3bets, 4bets, steals, resteals and nearly every other situation you can think of.  This is all displayed in the interactive format shown above.
As you would expect, this course isn't just about learning off starting hand ranges in a robotic style: as the course progresses, you will also be taught how to adjust these ranges to your opponent's tendencies in order to maximally exploit them. 
This is one thing Bencb does extremely well; he teaches you the fundamentals of winning play so that you are very hard to play against, but then he also the key strategic adjustments you should be making from your base strategy in order to maximally exploit your player pool. This is the difficult balance of GTO and exploitative play which Bencb gets spot on.
Bencb not only teaches you the fundamentals of winning poker (i.e. GTO-based strategy) but also the key strategic adjustments that you should be making to maximally exploit your player pool.
The next set of lessons take you through a range preflop and postflop strategies which are quite involved and detailed. The course then moves onto short-stacked strategy and heads up on the final table. As you would expect, there is a lot to cover with all of these topics and the content delivered over 20 hours of video. 
There are quizzes after most lessons to help to ingrain the strategies discussed. Although the quizzes are fairly good, I was found wanting a small bit more detail as some quizzes are quite short at the moment. The program would benefit from some really tough quizzes but from what I have seen on their youtube channel, this content is on the way in the next course update. 
Overall, the content is in-depth, relatively easy to follow and very methodical. You may need to stop and watch a video a number of times to take it all in, however, so this won't be a walk in the park. 
The caveat with this poker training is that you are expected to be an intermediate to advanced tournament player before enrolling –  if you aren't aware of pot odds, implied odds, hand ranges etc, this poker course isn't for you.
For more details on exactly what is covered, you can check out our detailed video review of the Tournament masterclass here:
If you aren't so well versed on some of these topics I mentioned, you should check out another one of my favourite MTT courses PokerNerve's Road To Success course – this course starts from the basics and will be more suited to the skillset of a player starting out their Texas Holdem journey.
However, if you are past the fundamentals of MTT play and are looking for content to take your game to a new level, you are in for a treat with the TMC.
There are two tiers to this training program. The first is the Apprentice class which includes 20 hours of content and includes everything we have discussed so far plus a few extra:
The range viewer
The preflop section
Postflop
Short stacked play
Multiway play
High stakes hand history reviews
The Expert class has over 50 hours of content and comes with a number of bonuses including:
The GTO Bible (which is its own mini-course)
Advanced ICM Preflop Shortstack Theory
The Science Behind Resteals & Calling Them
Perfect Push & Call as Shortstack
and more
To see more details on the difference between the two tiers, head over to their course description page here.
If you are interested in jumping into this training program, you can do so for $617 with the Apprentice class (using coupon code HOWTOAPP – $80 discount off normal price) or the Expert class for $1147 (using coupon code HOWTOEXP – $150 discount off normal price).
I would recommend the Apprentice class to people who are playing low stakes ($5-$25 buy-ins) and the Expert class to those who are beating the $25+ MTTs and looking to break into higher stakes.
WARNING: As already stated, this course is not for beginners. You will be disappointed if you don't already have a good grasp of advanced poker strategies and you buy this course.
Learn To Crush MTTs With Raise Your Edge Today
Raise Your Edge Course List
The Tournament Masterclass is not the only poker training offered by Raise Your Edge. They have a range of content suited to poker players of various game types and skill levels. Below is a summary of all the training content offered:
Other Raise Your Edge Information
Find more info on Raise Your Edge in the expandable boxes below:
---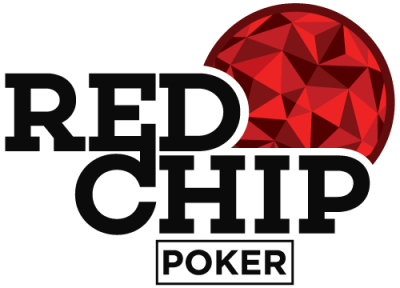 Red Chip Poker is a poker training website co-founded by Doug Hall and James 'Splitsuit' Sweeney that offers a wealth of strategy resources for budding poker players. Other contributors to this poker training site include Ed Miller, Mike Gano, and Adam Jones who are top pros, coaches, and poker authors in their own right.
Red Chip Poker has a very strong core of professionals who make this an excellent training site to help you learn poker quickly. 
Featured Course: Red Chip Poker Pro
The mainstay of RedChipPoker is their Pro program. This is a collection of poker strategy videos which is everything that RedChipPoker has ever produced including their core program (fundamentals) and all of their crash courses. Outside of these "sub-courses", the Pro section isn't organized into any larger groups so you'll be able to access many individual videos as you choose.
The good side of this training site's approach is that it gives players a lot of freedom in terms of what they want to learn and how they want to go about the learning process. If there is a particular area that you feel you should study more, you can simply pick a video on that particular topic and go with it.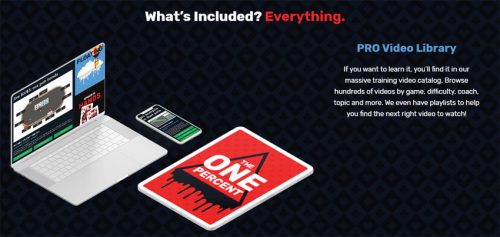 However, if you're new to poker, this kind of structure may not be the best fit. Someone looking to get started with the game will probably prefer a poker training program that's more structured and takes them from one point to another in a more organized manner.
A beginner or someone playing micro stakes may be more suited to the Core program which starts off at the very basics and works up to the more advanced topics and only costs $5/month – that makes it one of the cheapest training options around.
Many of the videos found in the Red Chip Poker Pro section belong to the category of Poker Theory & Meta Game such as:
Hand reading
Building a poker mindset
Poker myths
However, there are also lessons which go into highly specific poker concepts such as:
Recognizing and fixing leaks
Continuation betting
Play in the blinds
Understanding and exploiting ranges, etc.
Plus many more which you can check out in our full review here.
The number of strategy videos available for Red Chip Poker Pro members is quite extensive and the library is constantly growing. New videos are added regularly, at least once a month, often in a form of coaching webinars that include interaction with the players and answering some of their questions.
Start Training Like A PRO With Red Chip Poker Now
Red Chip Poker Course List
Other Red Chip Poker Information
Find out more information using the expandable boxes below:
---

Upswing Poker is among the new breed of well-designed Texas Holdem training sites started by Doug "Wcgrider" Polk and Ryan Fee –  for those of you who have never heard of Doug he is a high stakes crusher who has become a poker superstar in the last few years.
For this poker training site, we will be mainly focusing on the Upswing Poker Lab, however, Upswing Poker offers a range of training programs which you can find here.
Featured course: The Upswing Poker Lab
The Upswing Poker Lab is a No-Limit Holdem membership course that is updated each month with in-depth theory modules. In my opinion, it one of the best overall poker training resources you can get your hands on.
This poker training program is getting excellent reviews as it has everything required to bring you from a complete beginner poker player, up to a relatively high level. The only requirement for starting with the Poker Lab is that you know the rules of the game.

The course is broken down into 6 Modules which you should work through in this order:
Lab Core Strategy 
Advanced Lab Strategies 
MTT's
Live Poker
Mini-Courses
Plays And Explains
The advanced strategies cover some high-level concepts such as overbetting (one of my favorite tactics) and aggressive 4betting, which (if correctly implemented) will take your poker game to a new level.
A great part of the Poker Lab is the hand selection charts that tell you exactly which hands you should be playing for basically every preflop situation. This is similar to Raise Your Edge's, although not as detailed. But you also get cash game ranges as well as MTT ranges (yes, there is a big difference!).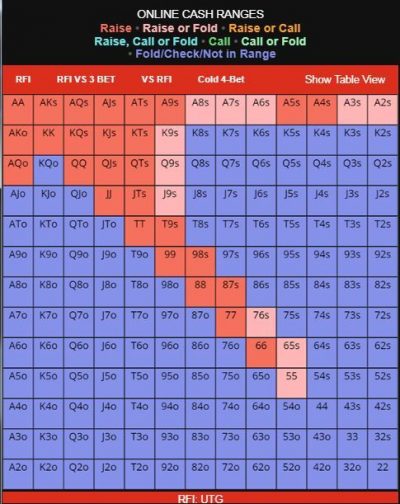 The hand selection charts take the guesswork out of your preflop game and give you a solid base to work from. If you are new to poker or haven't seen ranges like this before, you will see huge leaps in your game just by following these charts.
If you would like to learn more, I walk through the Upswing Poker lab in a LOT more detail in my video review here:
Get Started With The Upswing Poker Lab Now
Upswing Poker Course List
Upswing Poker has the widest range of training options of any of the poker training sites on this list. There is something in here for everyone to expand their poker knowledge.
If you see something you like, use coupon code advanced50 to get $50 off any of the $999 courses listed below. 
Other Upswing Poker Information
Find more info in the expandable boxes below:
---

PokerNerve is a website owned by professional tournament poker player Kelvin "Acesup" Beattie. Kelvin has been a professional poker player for more than 12 years, and he has amassed over $3,000,000 in winnings along with ten triple crowns!
This experience has helped him create one of the best "ground up" tournament poker training programs out there – The Road to Success MTT Poker Course –  which has everything needed to bring a complete novice to a top-level poker player.
The Road To Success is similar to a university course – an organized series of lessons and not a random assortment of videos some of the older generation of online poker training.
You will start with the basics of MTT play and develop your skills all the way up to advanced topics. Only when you have learned one skill will you be taught the next.
This course covers a considerable amount of information on MTTs and in total, has over 80 hours of video content. Find out more:
PokerNerve also provides a set of default ranges for you to help you get started (similar to Raise Your Edge). However, more ranges are being added fairly regularly. You get full access to the ranges when you sign up for the premium or starter course.

Here is a great story from Jack Sinclair who started out with the Road To Success: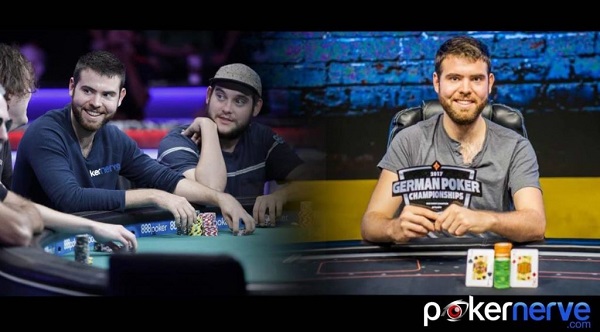 Jack Sinclair at the WSOP (left) and the GPC (right) where he finished 8th and 1st respectively for a total of ~$1,500,000.
Jack – England
This course also comes with a $9.99 7-day trial with one click cancellation so you can test out this tournament poker training material with unrestricted access before committing.
The premium course is currently retailing at $690 (once-off), and the starter $139 but you can get 25% off ($170 off the premium course and $34 off the starter course) using coupon code HOWTOPLAYPOKERINFO.
Pokernerve also has a free email MTT course on the "The 3 underused skills essential to tournament success" which you can check out here – lots of good content in this course on some poker skills that aren't used frequently by most MTTers, so I highly recommend it!
I would recommend the Premium Road To Success course for novice or intermediate tournament players who play 1$-$50 stakes online or $20-$100 live and want to improve their game.
There is the starter Road To Success course which you can pick up for $104.25 which I recommend if you are starting out or you need a refresh of the fundamentals. Otherwise, jump straight into the premium course trial to check everything out that on offer.
Disclaimer: I help out at PokerNerve with website technical support. However, I have tried to be as unbiased as possible in this review.
Click here to find out more about the Road To Success Premium MTT Course and start your 7-day trial.
Start Your Road To Success With PokerNerve Today
PokerNerve Course List
Other PokerNerve Information
Find out more information using the expandable boxes below:
---


SplitSuit Poker is run by James Sweeney who is a renowned coach in the poker industry. In my opinion, James owns one of the best Hold'em training sites out there.
He has worked with 500+ students, has written best-selling poker books, and made hundreds of videos.
James even taught me to play poker in during my early days over at the thepokerbank.com.
SplitSuit has lots of great content focused on specific game types, however, the product we will be looking at today applies to all types of poker.
Featured Course: The Hand Reading Lab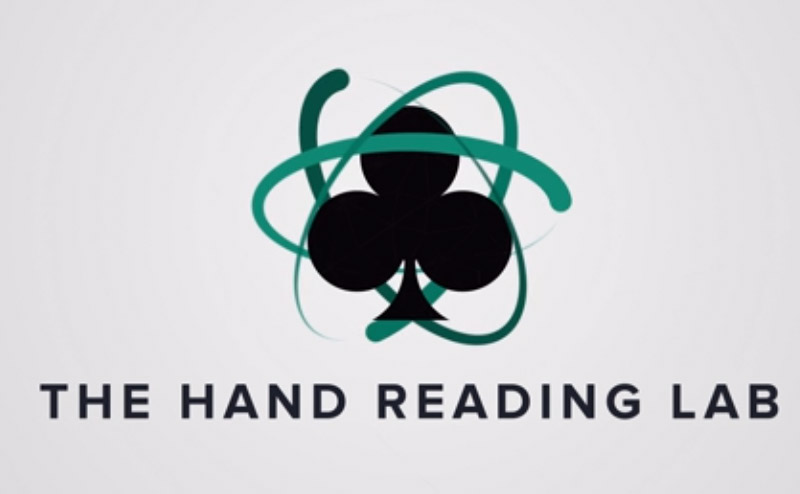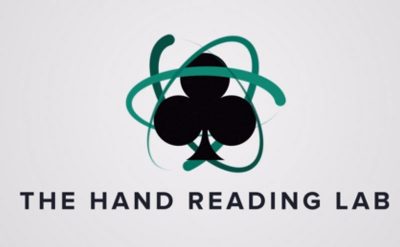 If you are genuinely dedicated to improving your poker game, you will need to dive into the skill you use in every single hand you play: hand reading your opponent! 
For this, you can look no further than SplitSuit's flagship course:
This one of my favourite pieces of training content and really helped add structure to my hand reading process and improve my bottom line.
Being able to read a poker players hand is one of the most critical skills in poker and translates no matter if you're playing heads up, 6max or full-ring, live or online poker. This skill is comprehensively developed from the ground up in The Hand Reading Lab course.
The lab is a step by step system which teaches you how to put your opponent on the correct range at the right times so you can bluff more effectively, value bet more thinly and increase your overall win rate.
The course contains 27 videos which begin with the Law of The Three Ls for reading hands:  Linear, Logic and Learning which help you put a structure around the hand reading process.
Other videos cover essential concepts such as:
The shapes of ranges,
Playing in 3bet and 4bet pots
Exploiting capped ranges
Using flopzilla to more effectively put your opponents on a range. 
lots of great hand reading example
Here is the full course content:
You are guaranteed to see huge advances in your hand reading ability if you put in the time with this course.
This poker course is focused primarily at $1/$2 and $2/$5 live, but I would recommend this course to anyone who is serious about poker, no matter their game type.
There are a lot of bonuses included with the course which add enormously to the value proposition of this course:
$60 value Hand Reading webinar – A 2-hour webinar including the audience Q&A.
$35 Hand Reading Live Tags – this is a very popular video from Red Chip Poker by James. 
$25 Flopzilla licence – get a free copy of this must-have software for analysing ranges and hand reading.
 Splitsuits custom flopzilla ranges worth $40 in value.
Guides and exercises to help you study. 
This comes to a value of over $150. Plus if you sign up to the hand reading lab today through the link below, you will also get a free 2.5 hour webinar on "playing vs unknowns" absolutely free. Just email me at [email protected] with your receipt, and I will send it across 🙂
You can find out more about the Hand Reading lab and pick it up here for $497:
Take Your Hand Reading To The Next Level
SplitSuit Content List
Splitsuit has produced a number of other poker training programs which are listed below:
| Content | Good for | Price | Full Review |
| --- | --- | --- | --- |
| The Hand Reading Lab | Poker players of all types & skills | $497 | Read here |
| The One Percent | Poker players of all types & skills | $199 | Read here |
| The Hand Reading Workbook | Poker players of all types & intermediate skill | $99 | Read here |
| The 6max Workbook | Short handed NLHE players | $69.99 | Read here |
| Tournament Final Tables Workbook | MTT & SNG players | $69.99 | Read here |
| Preflop and Math Poker Workbook | Poker players of all types | $39 | Read here |
Other SplitSuit Information
Find out more information using the expandable boxes below:
---
Run It Once is a training site ran by Phil Galfond, one of the best poker players in the world and the most renowned poker coaches in the business. Run It Once currently have 110 world-class additional coaches on their roster. Their library is HUGE as it contains almost 4,000 pro training videos and two new videos are released daily.
What sets RIO apart from other poker training sites is the quality and quantity of their instructors –  they have online poker legends such as Ben "Sauce123" Sulky, and tournament crusher Jason "NovaSky" Koon.
Phil Galfond is no slouch either – he is often regarded as one of the greatest players to grace the game.
Regarding the community, RIO's is one the best out there (from what I have seen) which you can join for free and have full forum access.
Otherwise, you can sign up for the Essentials pack which is $25 per month (targetted towards low stakes) or the Elite pack (high stakes 500nl+) which is $99 per month.
RIO also have an app which you can use to watch the training videos on your phone or tablet.
However, the negative this content structure is the fact that it can be quite difficult to know "what you need to know" and therefore what content you should consume next. With over 1500 videos for the essentials package, you can easily get lost and not know where to start.
In my opinion, course type formats are significantly easier to digest and follow, particularly as a beginner poker player.
"Random video" type training sites are a thing of the past: just look at DeucesCracked and Cardrunners (two of the biggest training sites of the last 10 years). They are pretty much out of business because students don't want to sift through 1000's of videos and to consume content all day.
They want an easy-to-follow course which will teach them everything they need to know.
Overall, this is one of the best training sites for content out there and no doubt signing up will significantly improve your game if you already have good poker fundamentals. However, the lack of content structure and the requirement for the student to "know what he needs to know" is where RIO falls down in my opinion.
Train With The Pros At Run It Once Today
RunItOnce content list
Here is a break down of all the courses and training offered by this training site. 
Other RunItOnce Information
Find more info in the expandable boxes below:
---
Advanced Poker Training is a cool poker trainer which isn't like any of the other poker training sites out there – it's a live poker training experience. 
While training you play hands against AI opponents allowing you to get real-time advice and feedback on your game.
Additionally, you can quick fold hands which you don't plan on playing meaning the game moves FAST. This means you can condense your training into a very short amount of time.
The other feature of this training style is that it allows you to work specifically on the weakest part of your game. For example, if you have trouble exploiting weak, passive players, set the game to include weak, passive players and learn how to beat them quickly.
When you start up a game you will be faced with this screen which allows you to adjust the game to however you want: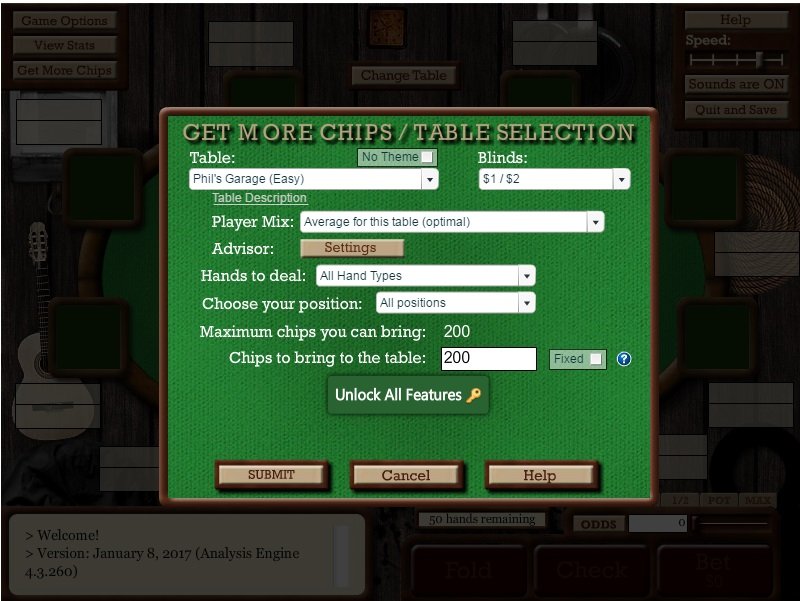 Then you can move onto the table where you can start learning:
You can also get hold of weekly reports which tell you the weakest parts of your game and areas you need to focus.
You can try out this training for free by clicking here.
However, the majority of the choices are locked unless you upgrade to a premium account. With a premium account, you have the following options:
Game choices of Fullring, 6max, heads-up (cash or SNG), single table tournaments or multi-table tournaments.
Difficulty choices of: Easy to very hard
Blind levels $1/$2 to $500/$1000
Player mixes of passive to aggressive or unknown
Rotated positions or fixed
Various hand types
To play verus a GTO bot or a standard plate
As a result, you can target any part of your poker game that needs work, play many hands quickly and get real-time feedback on your choices. Training plans are also provided to help you figure out what you need to work on. Overall, it is a speedy way to improve your Texas Hold'em skills.
Advanced Poker Training also includes content from recent WSOP winner Scott Blumstein as well as other poker pros such as Jonathan Little when you sign up for the premium package. 
The premium account costs $29 per month when using the Advanced Poker Training coupon code HOWTOPLAY ($10 or 25% discount). You can get further reductions in the cost by choosing upfront payments of semi-annual ($144) and annual ($240).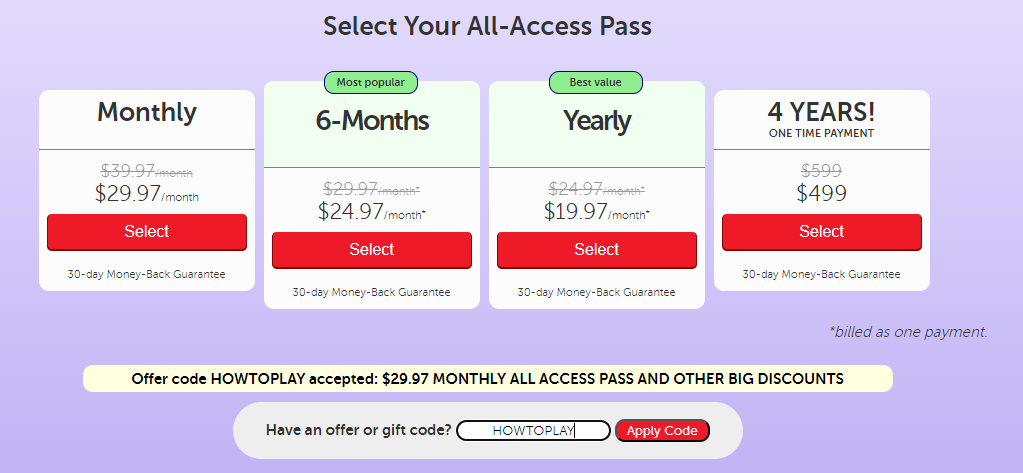 We take a more detailed look at this site in our Advanced Poker Training review here or you can find more details on Advanced Poker Training in their video below:
Enrol With The Advanced Poker Training System Today
---
The majority of the poker training I recommend on this page is Texas Hold'em based for one reason: Holdem is the most popular game of poker and hence is the type of training that most ambitious poker players are trying to find. However, there is a new game in town, and that is PLO (Pot Limit Omaha) and PLO Quick Pro are one of the best poker training sites for this game type. 
Omaha in some ways is similar to Holdem – there are the flop turn and river community cards so it will be familiar to a traditional NLHE player – but it plays very differently. Since you are dealt 4 cards preflop, you have 6 combinations of 2 card hands possible in your holdings (in other words you have 6 hands at the same time). This means equities run closes together than Holdem and makes Omaha more of a drawing game in comparison to Holdem.
A lot of Holdem players are moving over to Omaha because there:
The regs aren't as skilled as Holdem
There is a lot of fish and hence money to be made in Omaha
The game is a lot more exciting
So we need some training for Omaha in this list of poker courses and training 🙂
If you are interested in learning PLO, we recommend you start off with PLO Quick Pro Stats. Here is John to describe what PLO Quick stats is all about:
This book costs $19 on Amazon, but you can get an awesome deal where you grab it for just the shipping costs. You can check that deal out here.
For more advanced training, PLO Quick Pro's flagship online training comes in the form of their Win$1K. This course is designed specifically for new or transitioning NLHE players.
There are over 15 hours of carefully crafted exams, PDF's, slide shows and detailed hand history review and this curriculum show you how to build a complete framework of PLO theory.
The first module is designed to draw parallels between NLHE and PLO so that transitioning players can immediately grasp the adjustments you need to make when playing PLO. After watching the first module, I jumped into a game and felt I had a much better idea of my overall strategy and the adjustments I needed to make.
If you have ever thought about trying PLO, this is the course you need to get you up to speed on the game. This is exactly the training a Holdem player needs to transition to Omaha quickly, and if you play anything but the 2 or 5nl, this course will pay for itself in no time. 
You can pick the course up for $497 or 6 payments of $97 right here:
Take Your PLO Game To The Next Level
---
Tournament Poker Edge has been around since 2010, so they are well versed in MTT training. They have some awesome pros who crush at the tables and a cheap price point for access to training.
Tournament Poker Edge is slightly different from Raise Your Edge or PokerNerve. This is a more traditional training site which produces videos on various topics in no particular order. PokerNerve, on the other hand, has a complete course which will take you from a beginner to an advanced skill level in MTTs. Although, the material Tournament Poker Edge produces is top-notch.
You can stream or download the videos for online use with Tournament Poker Edge.
Tournament Poker Edge releases new videos almost every weekday which includes: live sweats, theory videos and general play. They also offer tournament poker strategy articles, pro blogs and a member forum in which the pros are VERY active and a tournament strategy podcast.
Cost: $39 per month or $299 yearly with no signup fee.
Focus: Exclusively multi-table tournaments
Stakes: All MTT stakes
Here is a walk-through of the site from a few years back:
When signing up for your first month, make sure that you use tournament poker edge coupon code GREENCHIP to get $10 off.
Click here to get your 7-day free trial of Tournament Poker Edge.
---
The Best Free Poker Training And Courses
Generally speaking, you get what you pay for – to get really good training you will need to open your wallet. There is no incentive for someone to create extremely in-depth content that comprehensively covers a game as complex as poker, and then give it away for free.
However, there are still a number of good training options that are completely free that you can dip your toe into. But as we said, the amount of content will be limited in comparison to entire course or video series.
---
AcePokerSolutions: Polished Poker by John Anhalt
While this is not a typical training source like many of the others included in this list, I just had to include this as it's such a good and consolidated resource for new players. Polished Poker is a 175-page book that covers everything from setting poker goals, diet, to the math behind poker, and reading your opponent. Although the book was written in 2014, it's still one of the first resources I recommend to players who are just starting out with the game.
You can check Ace Poker Solutions' free poker book here.
---
Advanced Poker Training's Free Simulator
Advanced poker training is a training site that we have discussed extensively earlier on this page and in our more comprehensive review, however, that was mostly with their paid options. Their free option allows you to get started improving for free. When you signup you will be given a personalized training program to get you started.
Once signed up, you will have a lite version of the paid simulator where you can try your hand at beating the AI opponents, be provided with feedback and suggestions for improving the game, all for free!
Find out more here. 
---
SplitSuit Poker's Hand Reading Email Course
Splitsuit has a fantastic hand reading email course which will upgrade your hand reading skills over the next 5 days. Hand reading is key to all poker games where the better ranges you assign, the easier it is to exploit your opponents and turn a profit at the table.
This 5-day course includes much of the same content that is available in the full hand reading lab, but will give you an idea of what to expect for free! Check it out here. 
---
RedChipPoker's Best Poker Plays Email Course
The best poker plays by RedChipPoker is a week-long email course and where they share eight +EV moves pros are using to beat you. Tee moves include:
stabbing turns
attacking raisers
pushing pain thresholds
Plus many more.
Find out more about this free email course here. 
---
DriveHUD University
DriveHUD is a popular poker HUD which allows you to keep track of your opponents so that you can understand their game and exploit their play. In addition to their HUD software, they also have some free training videos on various Texas Hold'em topics such as overbetting, opening ranges, 3betting bluff selection, and more.
This is a relatively new resource with a growing library of free content, so it's well worth checking out. Visit DriveHUD University's free poker training here. 
---
Pokerstars School
Pokerstars are best known for their online poker site with great software and big tournaments but Pokerstars also provide some great free training resources for you to get to grips with the basics. Although the majority of training is in blog format, which is a departure from the other training options on this list, it's still an excellent resource that is well worth checking out. 
---
Pokernerve Essential Skills Email Course
PokerNerve also provides a free 5-day email MTT course on the "underused skills essential to tournament success". There is a huge amount of good content in this course on some skills that aren't used frequently by most MTTers, so I highly recommend it!
This course includes over 1.5 hours of video content and covers the following underused topics:
Lead betting is when you take the lead on the next street after your opponent has taken the aggressive action on the previous street.
Overbetting is when you bet larger than the standard" maximum of a full pot-size bet.
Check-raising – well, we all know what a check raise is but that doesn't mean it's used often enough!
Improve your MTT game today for free with PokerNerve here. 
---
Raise Your Edge's Free Content
Raise Your Edge provides a free set of resources to let you learn for free. This includes:
Access to free starter range viewer
How To Study Poker with Neuron123
How To Crush Final Tables with Bencb
Crushing satellites
Bounty tournaments strategy review
Although this content is a little more structured than the previous examples, it still provides some excellent content and potential to learn for free! Find out more. 
---
Upswing Poker's Free Training Content
Upswing list a range of free resources you can dive into by simply providing your email. These include:
Preflop charts
PLO preflop guide
20 rules for crushing 3bet pots
10 laws of live poker
6+ holdem (short deck poker) guide
The preflop charts are an excellent starting place for new poker players to figure out what hands they should and should be playing while the 20 rules for crushing 3bet pots include some great tips and generalized guidelines for playing in this type of pot. Get the 3bet pot guide and more here. 
Other Poker Training Sites That Almost Made The List
---
Poker Warm Up is a training type applicable to all poker games. This training site teaches you how to warm up and cool down before and after your game. Just like a professional golfer would warm-up before he plays a big tournament, a professional poker player should warm-up too (or even a casual player who wants to take the game more serious).
Pokerwarmup.com helps create a structure around your play and study by defining and setting SMART (Significant, Measurable, Attainable, Relevant & Time Orientated) goals. This ensures that every session you know what you should be working on and has the additional benefit of keeping you motivated to work on your game.
The premium version of the PokerWarmUp starts at $3 per month, or you can grab it for $30 for the year.
Join the Poker Warm Up today and add some structure to your poker game.
---
My Poker Coaching – Specialised Training
My Poker Coaching is an up and coming Hold'em training site run by Tadas Peckaitis, aimed at improving your poker game to help you win more on the tables. He offers a great set of courses for free which you can pick up at this how to win at poker blog post –  I'd highly recommend you check this poker coaching site out!
Cost: €59 per month
Click here to find out more about My Poker Coaching.
---
Drag The Bar – General Training
Drag The Bar is a free poker training site which was set up by Dusty "Leatherass" Schmidt.
This site was one of the best poker resources, and the produced some excellent content particularly back in the initial training boom.
However, there are some issues with the DragTheBar:
As a new player, it is difficult if not impossible to know which videos to watch or learn next when the content isn't organised into a course or series format. 
To watch the videos, you have to turn on flash player. 
Overall the site is little clunky, loads slowly and need some tender love and care.
It's a shame that the issues above haven't been resolved as DTB used to be one of the best training sites on the market.
Despite these issues, I would still recommend that you check out what DragTheBar has to offer as it is completely free and a good way to get started with your poker development journey. All you have to do is register to view the full videos.
As a first step, I would check out the two-part series: mental game at the micros by Nathan Williams.
Frequently asked questions
Conclusion On The Best Poker Training Sites
So there are the best poker training sites 2022 by HowToPlayPokerInfo. This is by no means an exhaustive list, and there could be other great sites out there that I missed.
So go check out one of the sites above and make sure you let me know what you think! Good luck with finding the most suitable poker training for you!
Is there other poker training site that you would like evaluated? If so, email me at [email protected] and I will try to check it out.
Note: Although we earn a commission (at no cost to you) for some of the above training sites, we have not let that impact our ratings. Our rating system is based solely on the quality of the training provided, and not on any commissions we may receive.