Although there are many poker training sites out there these days, Upswing Poker must be leading the way, both in terms of quality of the content and the sheer volume they continue to put out. Their latest course, called PLO Launch Pad, is another proof that they're keeping up with the times and offering the kind of content that players want to see.
Upswing's PLO Launch Pad is a brand new course focusing on, you've guessed it, Pot Limit Omaha. The "Launch Pad" in the title is also a good indicator of who this course targets primarily.
PLO Launch Pad is for those new to Pot Limit Omaha, aiming to teach you everything you need to know about the game, starting from the very basics. Dylan Weisman, one of Upswing's long-standing coaches, has done a great job of it, creating a program that won't overwhelm you and won't make you a PLO master overnight, but teaches you solid fundamentals to build upon.
PLO Launch Pad at a Glance
In comparison to other Upswing courses, PLO Launch Pad isn't as comprehensive, but it's not nearly as expensive, so there is a solid balance in that aspect. It's a low-cost option that will get you on track if you are relatively new to this poker format. 
The course is divided into several main sections or modules, which follow the natural progression and give you a chance to slowly improve your PLO skills.
PLO 101 – teaching game's rules and basics
Preflop Play – featuring starting hand selection, some 3 and 4-bet advice, etc.
Navigating flops in PLO
Turns & Rivers – a short module that goes a bit beyond the scope of PLO Launch Pad
Miscellaneous – a few videos addressing some general poker concepts and live PLO play
Play & Explains
The best thing about this course is that it's been designed with beginners in mind. You aren't expected to have a lot of previous knowledge to keep up and make most out of PLO Launch Pad. Concepts and ideas found inside are discussed in a simple, understandable manner, which won't make your head hurt.
Most lessons are between 10 and 20 minutes long, so the whole course is divided into small, digestible chunks of content. You don't need to be an expert to benefit from this course, and you don't have to set aside a few weeks of your life, either.
In a few hours' worth of lessons, Weisman teaches you fundamentals of Pot Limit Omaha and he does a very good job of it. Of course you won't master the game overnight, but the knowledge contained inside will help you navigate a majority of smaller stakes games, both live and online, with ease.
What's Inside PLO Launch Pad?
As mentioned, the content of Upswing PLO Launch Pad is broken into several modules, and the best way to go about watching this course is to just watch all the lessons in order they are presented.
If you have played a bit before, you might skip the PLO 101 part, as it mostly covers rules and how to calculate the size of the pot for purposes of betting, but there is really no reason to do so. It will take you about half an hour to go through the lessons in this module, and you might find out something new that you didn't know.
For example, one lesson covers the use of Pro Poker Tools, a very powerful piece of software for running PLO simulations, and Weisman gives you a quick run-through on how to use it to quickly improve your game and develop your intuition.
Preflop Basics: Beat Your Opponents Before the Flop
The preflop section of Upswing PLO Launch Pad might be the most important one in this course. It gives you very solid fundamentals on how to pick your starting hands and explains concepts you need to know to make the right choices.
Many players at lower stakes don't have solid preflop fundamentals, so learning these ideas will put you in a good spot.
The best part is, Weisman provides a very good explanation on how you should go about thinking about starting hands in PLO rather than just giving you a bunch of charts. He explains the important aspects that come into play when figuring out what hands plays best in certain situations and/or positions.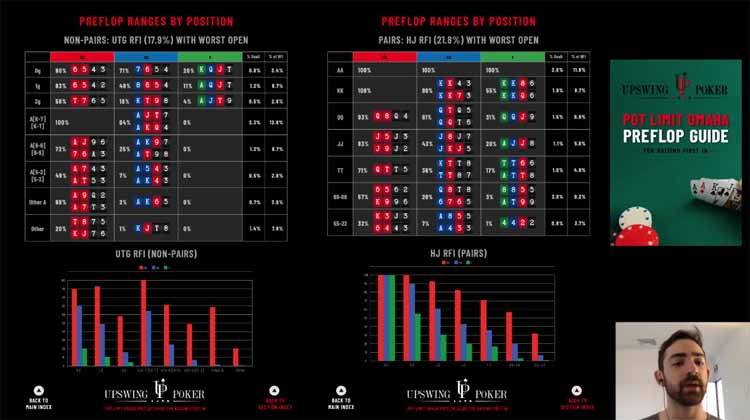 That said, you'll also get preflop charts in the form of a PDF document, with starting hands divided by positions and categories, to make your life easier.
Flop Play With Focus on C-betting
Pot Limit Omaha is a complex game, so it's not realistic to expect you'll learn everything you need to know from a short course. The main idea of PLO Launch Pad is that you'll learn enough to make profit in most low stakes games and avoid some glaring mistakes.
Hence, the flop section of the course focuses primarily on continuation betting, which is an important aspect of the game, but the strategy differs significantly from the one you'd employ in Hold'em games.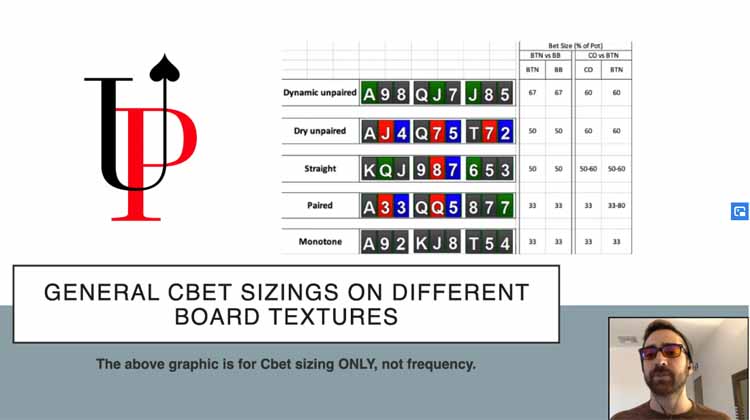 Weisman focuses on two main things: the stack-to-pot ratio (SPR) and board textures in all sorts of potential c-bet situations (including 3-bet pots).
Once again, things are discussed in a broader sense, trying to give you a roadmap to navigate these spots, rather than memorizing heaps of information generated by solvers. Yes, the data provided is still backed by solvers' calculations, but the main idea is to help you develop a PLO frame of mind and understand how different board textures and ranges influence your c-bet decisions and sizing.
Intro to Turns & Rivers
Turns and especially rivers are very complicated in PLO, and Weisman is very honest about the fact that this isn't something you can just learn quickly. With so many different combinations in play, depending on previous actions, there is no way to learn all there is to know about these spots in a few short lessons.
So, once again, he rather focuses on a few important principles in these spots, to give you some solid fundamentals to run with.
The first of the two videos in this module covers turn probes depending on board texture changes. The main goal of this video is to teach you how things can change quickly in PLO going from the flop to the turn and how you need to adjust your plan accordingly.
In the second video, you'll find information on how to play rivers in spots where there was no betting on previous streets and what aspects to pay attention to in these situations.
This isn't a very in-depth module by any stretch of the imagination, but this is an introductory PLO course after all. By the time you reach the point where you are ready to really dig into the turn and river play, you will probably be ready to move up in stakes and there is plenty of material available for advanced players, with Upswing's Advanced PLO Mastery probably being the best resource.
Extras and Play & Explain Videos
The final two sections of the PLO Launch Pad course represent a nice wrap to the series. In the first of the two modules, you'll find several videos on topics such as:
Setting yourself up for success in poker
What to expect from your very first live PLO experience
The first of these two videos is a very interesting watch as Weisman takes time to talk about the life of a poker player in general and how you should go about setting your goals. He tries to help you understand what it is that you want to achieve and explains the importance of figuring out what the success means for you personally.
The second video is geared towards all those who play or want to play live PLO. It's often a completely different game in a live setting and to make the most money out of it, you will need to make certain adjustments and adapt to the environment.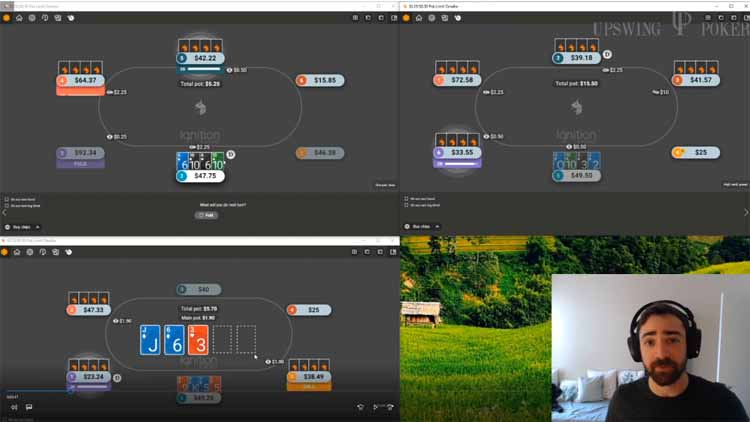 Play and explain videos are there to help clarify and extend the theoretical knowledge presented throughout the course. Weisman takes it to the streets, recording his live play sessions across several stake levels and explains his decision-making process in real-time.
As a bonus of sorts, you'll also get the recording of a live coaching PLO session featuring a multi-table tournament.
Final Verdict: Is PLO Launch Pad Worth the Money?
Should you spend your money on PLO Launch Pad? This is the question you'll have to answer for yourself, but, realistically speaking, you'll be getting a lot of bang for your buck if you want to drive into this format.
Priced at just $99, Upswing's PLO Launch Pad is probably the best beginner's course for Pot Limit Omaha out there. You don't have to spend hundreds of dollars on this one, and the wealth of information you'll be getting is certainly worth it.
If you're already a solid player, it's a bit trickier. You'll definitely find some value inside still, but you might already know a lot of what's covered inside.
In that case, perhaps the advanced course is more in your wheelhouse.
All in all, for the price, PLO Launch Pad won't disappoint you. Dylan Weisman has a deep understanding of the game, but he also has a great talent to share his knowledge in a simple and understandable way that won't put you off.
After all, it's just a few buy-ins if you're playing PLO25, for example, and the course is almost certain to boost your win-rate, so it will easily pay for itself in no time.